---
Survey of
Historic Sites and Buildings
Mount Airy
Virginia

Mount Airy

Location: Richmond County, on the north side of U.S. 360, about 1-1/2 miles west of Warsaw.
Francis Lightfoot Lee resided in this beautiful mansion for a short time in 1769, while its owner, his new father-in-law, Col. John Tayloe, completed building Menokin nearby as a residence for him and his bride.
Mount Airy, which sits on a ridge overlooking the Rappahannock Valley, is one of the finest late Georgian mansions to be erected in America. Built in the years 1758-62, it is attributed to noted Virginia architect John Ariss, and is considered to be his best work. It was the first residence in the English Colonies to carry out completely a full five-part Palladian villa plan: a main house connected to two dependencies by quadrant passageways that partially enclose a forecourt. The massive main section, standing over an elevated basement, and the two dependencies are two stories high and of dark brown sandstone construction trimmed in light-colored lime stone. The one-story passageways curve from the main house to the dependencies and enclose a semicircular forecourt on the north, or entrance, facade.
Prominent characteristics of the main building are front and rear central projecting pavilions of rusticated limestone, both having loggias, three windows in the second story, and crowning triangular pediments; limestone belt course; rusticated angle quoins; and two pairs of interior chimneys near the ridge of the hip roof, which was rebuilt after a fire in 1844 and may have replaced a hip-on-hip roof. The four square piers gracing the front loggia are faced with Roman Doric pilasters. The rear loggia has three round arches topped with heavy, marked, voussoired keystones.
The two dependencies have hip roofs and central chimneys, and their corner quoins match those of the main house. The connecting passageways, also of stone, are covered with shed roofs concealed from the front. At the point where they connect with the main house, which rests on an elevated basement, they are stepped up to allow entrance to the first floor.
Fire destroyed the probably fine wooden interiors in 1844, but the original floor plan was retained in the reconstruction. A magnificent central hall extends through the house between the front and rear loggias. Full-height windows flank both central entrance doors. The elliptical stairway in the front northwest corner room, in which there is also a pantry, dates from the 19th century, but the original stairs may have been in the present cross hall between the two east drawing rooms, lighted by the central arch of a Palladian window in the east end wall. In the southwest corner is a large dining room.
Mount Airy, in good condition, is still used as a residence by Tayloe descendants and is not open to the public. Francis Lightfoot Lee is buried with his wife in the Tayloe family cemetery, located about 300 yards northwest of the mansion.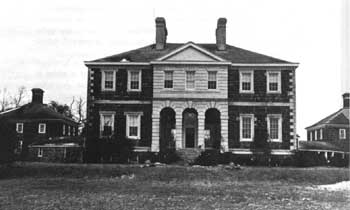 Mount Airy. (National Park Service, Snell)
---
http://www.cr.nps.gov/history/online_books/declaration/site51.htm
Last Updated: 04-Jul-2004