---
Survey of
Historic Sites and Buildings
Wolcott House
Connecticut

Wolcott House

Location: Litchfield County, on the east side of South Street nearly opposite its intersection with Wolcott Avenue, Litchfield.
Oliver Wolcott erected and occupied this residence in 1753, some 2 years after he moved from Windsor to Litchfield, and lived in it until he died in 1797. Except for a major rear addition, it has been only slightly altered.
The two-story, frame structure has a gable roof, a large central chimney, and slight overhangs at the gable ends. Attached to the south end of the house on the main axis is a small, 1-1/2-story frame wing with gambrel roof. A one-story porch, added by Wolcott about 1783, extends across this wing. The roof of the porch is of the coved, or "barrow," type. The walls of the main house and wing are covered with clapboards, and the windows have louvered shutters. Triangular pediments cap the first-story windows. The center door, topped by a round arch fanlight, is sheltered by a Federal period broken-pediment portico supported by two fluted columns.
Later additions include small bay windows on each side of the chimney in the south end wall of the south wing; a wide dormer in the west, or front, upper story of the wing; and a two-story, frame, clapboard-covered service wing, added in the 1880's at the northeast corner on the rear of the main house, which gave the structure its present L-shape. The service wing, which cannot be seen from the street, contains the present kitchen and servants' workrooms and bedrooms.
The floor plan of the main house is the central chimney type. To the rear of the short central hall, which is equipped with the original L-shaped stairway and divides this portion of the house into two tiers of rooms, is the central chimney. On the first floor, to the north of the hall, is the dining room; to the south, the parlor. The fireplace walls in both rooms are fully paneled, and the floors have wide boards. Back of the parlor, a hall leads on the south to the morning room, or bedroom, in the south wing; and on the north, to the original kitchen, which contains a large fireplace. Four bedrooms occupy the second story of the main house, two of them featuring paneled overmantels, and one bedroom is located on the second floor of the south wing.
One of Wolcott's descendants, who acquired and restored the house about 1920, resides in it today. In excellent condition, it is the oldest extant structure in Litchfield Historic District, a National Historic Landmark relating primarily to colonial architecture. The house is not accessible to the public.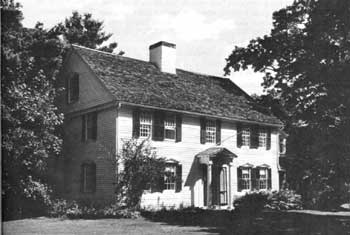 Wolcott House. (National Park Service, Wrenn)
---
http://www.cr.nps.gov/history/online_books/declaration/site5.htm
Last Updated: 04-Jul-2004