---
Survey of
Historic Sites and Buildings
Huntington Birthplace
Connecticut

Huntington Birthplace

Location: Windham County, on the north side of Conn. 14, about 2 blocks west of its junction with Conn. 97, Scotland.
This plain but charming farmhouse on the bank of Merrick's Brook was the birthplace and home of Samuel Huntington through his boyhood and early manhood. He lived in it from 1731 probably until 1760, the year he moved to Norwich.
The house, built in the period 1700-22, is shaded by huge trees and fronted by a spacious lawn. It is a large, two-story, clapboarded-frame structure of saltbox design. The gable roof slopes steeply at the rear. Exterior windows are topped by projecting cornices; the center door, by a rectangular transom. A one-story kitchen wing with front porch at the northeast end of the house along the main axis was added early in the 19th century.
The floor plan is typical of a central chimney New England dwelling. Behind a short central entrance hall, which contains an L-shaped stairway, is a large stone central chimney with three fireplaces. Two of these heat the parlor and dining room, entered from the hall; a huge third one serves the large original kitchen, which ranges across the rear two-thirds of the house behind the dining room and chimney. A small bedroom is situated back of the parlor alongside the original kitchen, between it and the one-story new kitchen addition. Three additional bedrooms, one of which has a fully paneled fireplace wall, are located upstairs. Wallpaper has been added to some of the rooms, but the fireplaces, wainscoting, and wide-board floors are original.
The privately owned house, which is in good condition and little altered, has never been restored, though some modern conveniences have been installed. It is not open to the public.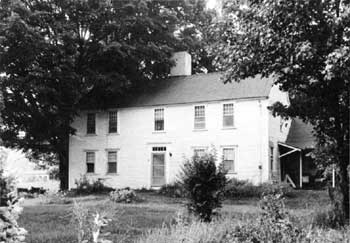 Huntington Birthplace. (National Park Service, Tony P. Wrenn)
---
http://www.cr.nps.gov/history/online_books/declaration/site1.htm
Last Updated: 04-Jul-2004