---
Survey of
Historic Sites and Buildings
General Floyd House
New York

General Floyd House

Location: Oneida County, on the west side of Main Street opposite Gilt ord Hill Road, Westernville.
William Floyd lived in this home from 1803 until his death in 1821. In 1784 he had begun purchasing frontier land near present Rome in western New York, and 3 years later the State granted him 10,240 acres in the same area. During the summers, he visited and developed his tracts. In 1803, nearly 70 years of age, he deeded his residence at present Mastic, on Long Island, N.Y., to his son Nicoll and moved the rest of his family to present Westernville, where he constructed this farmhouse. He spent the remainder of his life farming and improving his wilderness lands.
Constructed of frame, the Georgian-style residence consists of a large, two-story main section with gable roof and a lower, two-story service wing attached to the west end. A center door, flanked by a pair of small windows, opens into a central hall that extends through the house to another door on the north side. The stairs are set against the west wall of the hail. To the east of the hall are two large parlors containing cupboards and paneled fireplace walls. To the west of the hall is a dining room and behind that a study. The rooms have plastered walls and ceilings and wide floorboards. Four bedrooms occupy the second floor, and the attic is unfinished. The service wing, which includes the kitchen, is located to the west of the dining room.
The structure, unaltered except for metal roofs and modern plumbing, is in excellent condition. It remained in the possession of Floyd descendants until 1956. Still privately owned, it is not open to the public.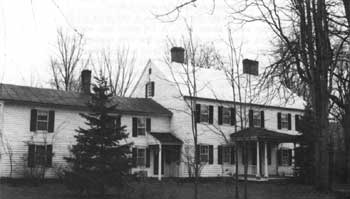 General Floyd House. (National Park Service, Snell)
---
http://www.cr.nps.gov/history/online_books/declaration/site34.htm
Last Updated: 04-Jul-2004