---
Survey of
Historic Sites and Buildings
Menokin
Virginia

Menokin

Location: Richmond County, on an unimproved road about 1 mile west of County Route 690, some 4 miles northwest of Warsaw.
Menokin, completed in 1769 by Col. John Tayloe of nearby Mount Airy as a wedding gift for his daughter and her husband, Francis Lightfoot Lee, was the home where they spent most of their lives and the one Lee loved best. He died there in 1797.
This late Georgian house, similar in many respects to Mount Airy though much smaller, was likely constructed by the same architect-builder, probably John Ariss. The exterior possesses the qualities of a large mansion, though the actual dimensions are rather modest.Ruins of Menokin.
The residence, constructed of local brown sandstone, is two stories high with hip-on-hip roof and two large interior chimneys. Its exterior walls are covered with plaster. The stone trim—quoins, belt courses, and window and door trim—is elaborate. Two stone belt courses, one at the second-floor line and the other at the sill level of the upper windows, divide the main, or north, facade horizontally. The upper course is eliminated on the other three facades. No longer standing are two two-story, gable-roofed, detached, symmetrical service buildings, a kitchen to the east and office to the west, which once stood in the forecourt at right angles to the main house. They undoubtedly heightened the impression of the mansion's large size.
A center hall extends halfway through the first floor, which contains dining room, living room, kitchen, and bedroom. Four bed rooms, divided into pairs by a central hall, are located on the second floor.
Unoccupied for many years, Menokin is in ruinous condition. The roof and walls on the southeast side have collapsed. The yard and grounds, part of a 590-acre farm, are overgrown with vegetation and small trees. The owner has removed and stored the original interior paneling. Extensive reconstruction would be required to restore the structure to its original condition. It is not open to the public.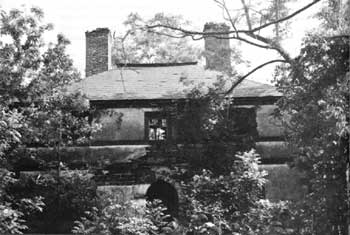 Ruins of Menokin. (National Park Service, Littleton)
---
http://www.cr.nps.gov/history/online_books/declaration/site49.htm
Last Updated: 04-Jul-2004