---
Survey of
Historic Sites and Buildings
College Hill
Georgia

College Hill

Location: Richmond County, 2216 Wrightsboro Road, Augusta.
In 1795 George Walton built this house on the western outskirts of Augusta on land that had been granted him by the State of Georgia in 1787. He lived in it until his death in 1804.
The handsome, two-story, frame structure features weather boarded and clapboarded walls, a gable roof, and a brick chimney at each end. Of special interest is the two-tiered veranda extending across the entire main facade. At its front and sides on both levels are a series of segmental arches supported by delicate square columns on high pedestals. The fine balustrade is composed of delicate, sheaf-like balusters. Central double doors are located on the front of both stories. The doors are framed by pilasters and sidelights and topped by segmental fanlights. The windows have exterior louvered shutters. A one-story kitchen, added in 1898, extends from the southwest rear corner of the house.
The central hall, which contains a U-shaped stairway, divides the main section of the structure into two pairs of rooms. The larger front two are equipped with fireplaces and have original mantels decorated in the Adam style. Behind the main hall is a smaller rear hall. The hall walls are plastered, and the board walls of the principal rooms are covered with paper and wainscoting. Five bedrooms occupy the second floor. The original kitchen was situated in a separate building that is no longer extant.
Known today as the Walton-Harper House, since 1885 College Hill has been owned by the Harper family, descendants of Walton. Little altered but never restored, it is a private residence and is not shown publicly.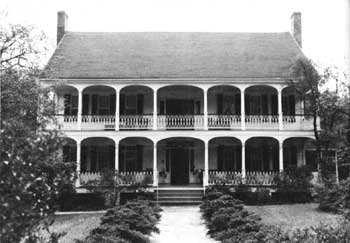 College Hill. (National Park Service, Charles W. Snell)
---
http://www.cr.nps.gov/history/online_books/declaration/site7.htm
Last Updated: 04-Jul-2004