---
Survey of
Historic Sites and Buildings
Carroll House
Maryland

Carroll House

Location: Anne Arundel County, 107 Duke of Gloucester Street, between Newman and St. Marys Streets, Annapolis.
Charles Carroll III of Carrollton was born in 1737 at this townhouse, which his father had probably built about 1725. Around the age of 11, young Carroll traveled to Europe for an education and did not return to Maryland until 1765. Thereafter, he lived mainly at Doughoregan Manor but utilized his birthplace, which he inherited from his father, when in Annapolis. In 1804, when he retired from public life, he relocated to Baltimore In 1852 one of his granddaughters deeded the house and property to the Redemptionist Fathers who built St. Mary's Catholic Church, which had been built in 1858-60 on adjacent lands also donated by the Carrolls. Carroll House, a brick rectangular structure constructed in Flemish bond, rises 2-1/2 stories over a basement. Belt courses mark the first- and second-floor levels on the north and south sides. Segmental arches head the windows. Two massive chimneys penetrate the slate-covered gable roof. They are located at what may have been the original gable ends. Five gabled dormers protrude from the south side of the roof; four from the north. A wood cornice with dentils and modillions extends along the sides and up the gables at the ends.
Exterior alterations include the addition of a one-story basement at the east, or present rear, end of the residence and a one-story porch and entrance at the west end. The front entrance, probably dating from the early or mid-19th century, is highlighted by a rectangular transom and sidelights. The original entrance was apparently located in the center of the north side of the house, where a passageway, now demolished connected it to St. Mary's Church.
Interior alterations in the 19th and 20th centuries have practically obliterated the original floor plan, but renovation and adaptive re-use efforts have restored much of the original plan. A stair hall occupies a central compartment at the north side, and the stairs appear to be original. Several major rooms retain some of their original finish. A large one on the south side of the first floor has walls paneled in plaster and a plaster cornice. Another, at the east end, features a plaster cornice, a ceiling divided by triple panels, and a wooden mantelpiece.
The building is open to the public on weekends in the summer months . It is part of Colonial Annapolis Historic District. (See charlescarrolllhouse.org)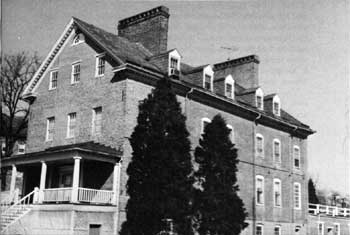 Carroll House. (National Park Service, Littleton)
---
http://www.cr.nps.gov/history/online_books/declaration/site11.htm
Last Updated: 04-Jul-2004