---
Survey of
Historic Sites and Buildings
Bartlett House
New Hampshire

Bartlett House

Location: Rockingham County, on the west side of N.H. 111, opposite the town hall, Kingston.
This is the only extant structure closely associated with Josiah Bartlett. He built it in 1774, after fire consumed his earlier home on the same site, and lived in it until his death in 1795.
The rectangular frame residence is clapboarded and two stories in height. Two interior chimneys pierce the gabled roof. Exterior louvered shutters border the windows. Many of the house's existing features date from the second third of the 19th century, when it was remodeled in the Greek Revival style. They include the giant corner pilasters; cornices over the first-story windows; the center door with cornice, sidelights, and pilasters; and the one-story porch across the south end of the structure. Another addition, at the southwest corner, was the two-story frame ell, which gave the building its present L-shape. This ell contains a summer kitchen and workroom on the first floor and four bedrooms on the second.
Center halls bisect the rooms on both stories of the main house into pairs. The downstairs hall is divided into two sections, each containing a stairway set against the north wall. To the south of the hall on the first floor are the living room and the dining room, originally the kitchen. These rooms are equipped with the original chimneys and fireplaces. North of the hall is a parlor and behind it a bedroom. Around 1860 the chimney for these rooms and the fireplace in the parlor were rebuilt, and two closets that flanked the parlor fireplace were converted into the existing arched alcoves. The second floor contains four bedrooms, two on each side of the central hall. The original wide floor boards are still in place throughout the residence.
The house, in excellent condition, is still in the possession of Bartlett descendants and is not open to the public. It has never been restored, but is furnished with some original Bartlett pieces, including a medical table and instruments.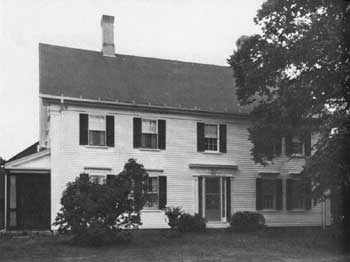 Bartlett House. (National Park Service, Wrenn)
---
http://www.cr.nps.gov/history/online_books/declaration/site25.htm
Last Updated: 04-Jul-2004