---
Survey of
Historic Sites and Buildings
Rutledge House
South Carolina

Rutledge House

Location: Charleston County, 117 Broad Street, Charleston.
The residence of Edward Rutledge during his later years, this building is the only existing one that can be identified with him. Unfortunately the construction date and the exact years of his residence cannot be determined, though he was definitely the occupant in 1787.
The large, rectilinear, clapboarded, frame structure is two stories high over a basement. The roof is hipped. A bilevel porch, supported by columns, extends across the west side and around the south, or rear, side of the house. A central modillioned pediment with circular window fronts the main roof and is "supported" by consoles. Exterior louvered shutters flank the corniced windows. The center doorway, once crowned by a cornice, now has a triangular pediment. A small, two-story clapboard wing, added to the front of the east end along the main axis in the late 19th century, is the only definite major exterior alteration. Behind it, runs a two-story porch.
A center hall extends about halfway through the house. On one side are two rooms with fireplaces; on the other, a front stair hall containing a curved stairway. Behind this is a large room, accessible only from the entrance hall. The kitchen, possibly another later addition, is located in a wing that projects from the rear of the house at the southeast corner. The interior woodwork appears to date from the 1880's, and partition walls now subdivide the large original rooms into smaller ones.
The Rutledge House, known in modern times as the Carter-May House, and was once a Roman Catholic home for elderly women. A large garden is located at the rear of the building. Currently it is now an Inn offering overnight accommodations.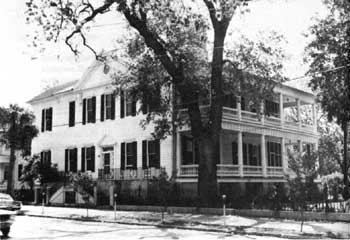 Rutledge House. (National Park Service, Snell)
---
http://www.cr.nps.gov/history/online_books/declaration/site46.htm
Last Updated: 04-Jul-2004