---
Survey of
Historic Sites and Buildings
Morven
New Jersey

Morven

Location: Mercer County, 55 Stockton Street, Princeton.
Morven was the birthplace and lifelong home of Richard Stockton (1730-81). In the summer of 1783 it was also the official residence of his brother-in-law Elias Boudinot, President of the Continental Congress, which was then meeting in Princeton. That same year, many Revolutionary leaders gathered at the mansion to celebrate the signing of the Treaty of Paris, which ended the War for Independence.
Between 1701 and 1709 Stockton's grandfather, also named Richard, built the earliest section of Morven. It grew in a series of stages until about 1775, when its exterior appearance approximated that of today. Because fires in 1776, set by the British during the War for Independence, and 1821 necessitated extensive repairs, the interior dates from the late 18th or early 19th century.
A large Georgian mansion of brick, Morven consists of three sections: a main central, two-story section over a raised basement and two lower, attached, two-story wings. The facade of the main section, although basically early Georgian in style, was altered in the 19th century by the addition of a wide, one-story, Greek Revival porch. A central hall divides the section into a large dining room and the Gold Room. Fireplace walls in these rooms are fully paneled. The central hall intersects a stair hall, which runs across the rear of the main portion of the house and connects with the two wings. On the first floor of the east wing are two large family rooms, the Red Room and library. This wing was partially burned by the British. The west service wing includes the kitchen. The only recent change, in 1945-54, was the addition of a solarium, or Green Room, at the rear of the main section; a one-story porch was enclosed to form the new room.
Morven remained in possession of the Stockton family until 1945, when Gov. and Mrs. Walter E. Edge acquired it. Nine years later, they donated it to the State of New Jersey. Until the late 1980s, it was the official residence of the Governor. Now operated by Historic Morven, Inc., in cooperation with the of the New Jersey State Museum; it is now open to the public.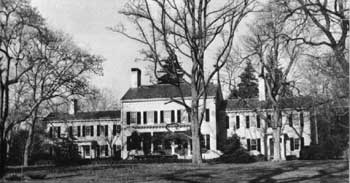 Morven. (National Park Service, Snell)
---
http://www.cr.nps.gov/history/online_books/declaration/site30.htm
Last Updated: 04-Jul-2004