---
Survey of
Historic Sites and Buildings
Summerseat
Pennsylvania

Summerseat

Location: Bucks County, on Clymer Street in the block bounded by Morris and Hillcrest Avenues, Morrisville.
Summerseat was erected in the 1770's by Thomas Barclay, a Philadelphia merchant. In 1806 George Clymer acquired it and resided in it until his death in 1813. It is a two-story, brick and stone Georgian structure over an elevated basement. The roof is gabled and slate-covered. The wall of the front, or east, facade is brick; the end walls, probably also of brick, are covered with cement; the rear wall is of fieldstone. Front first- and second-story windows are topped by flat arches of gauged brick; rear windows on both levels and all the basement windows, by segmental arches, also of gauged brick. Exterior solid shutters flank the first- and second-story windows.
A rectangular transom and triangular pediment surmount the front center door. Central halls divide the four rooms on each floor into pairs. Each of the rooms is equipped with a fireplace. The stairs, located at the rear of the ball along the south wall, are lighted by a large window over the landing. The walls, floors, and some of the woodwork appear to be original. Restored in 1931 and renovated 4 years later, the house is owned by the Morrisville School District and is used for educational purposes. It is open to the public only on a restricted basis.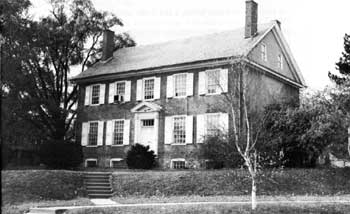 Summerseat. (National Park Service, Snell)
---
http://www.cr.nps.gov/history/online_books/declaration/site40.htm
Last Updated: 04-Jul-2004