---
Survey of
Historic Sites and Buildings
Elmwood
Massachusetts

Elmwood

Location: Middlesex County, 33 Elm wood Street, Cambridge.
This impressive 18th-century mansion, also known as the Oliver-Gerry-Lowell House, was the residence of three men prominent in American history: Andrew Oliver, royal Lieutenant Governor of Massachusetts (1771-74); Elbridge Gerry, politician, diplomat, Governor of the Commonwealth, signer of the Declaration, U.S. Representative, and Vice President; and James Russell Lowell, author, poet, teacher, and statesman.
In 1767 Andrew Oliver, while serving as royal secretary of Massachusetts, erected the building. An ex-stamp tax collector and a firm Tory, he aroused the hatred of the Whigs, who on at least one occasion attacked his home. He died in 1774 while serving as royal Lieutenant Governor. Some time during the War for Independence, Oliver's estate, including the mansion, was confiscated.
In 1787 Elbridge Gerry, who the previous year had retired from business in Marblehead, Mass., moved to Cambridge and purchased the estate. He lived there for the rest of his long career in public service. In March 1813 he took the oath of office as Vice President in his home. Because of heavy debts, on his death in Washington, D.C., in 1814, his Cambridge residence remained his sole real estate holding.
The mansion was also the birthplace and lifelong home of James Russell Lowell (1819-91), one of the most distinguished men of letters of his era, as well as a prominent U.S. diplomat. Except during the period 1877-85, when he served as Minister to Spain and Great Britain, he lived at his birthplace, which he named "Elmwood."
Elmwood is a large, square, clapboarded-frame structure in Georgian style with brick-lined walls and two interior chimneys. The first- and second-story windows are topped by cornices. Above the foreshortened third-story windows, typical in three-story Georgian houses, runs a boldly modillioned cornice. A balustrade encloses the low-pitched hip roof. The most striking exterior feature, however, is the entranceway, which is flanked by Tuscan pilasters supporting a classic entablature decorated with a frieze. A large window rests on the entablature parapet motif and is flanked by Ionic pilasters and topped by a triangular pediment.
A one-story porch with balustraded roof deck on the north side of the house, as well as a terrace on the south side, are later additions. Located in the rear, at the northwest corner, is a two-story service wing; in the rear, at the southwest corner, a one-story wing. Both of them are of frame construction. All three floors in the main section are bisected into two rooms on either side by a central hall. Portions of the interior have been altered and modernized.
Donated to Harvard University in 1962 and now used as the presidential residence, Elmwood is not open to the public. The house and grounds are in fine condition.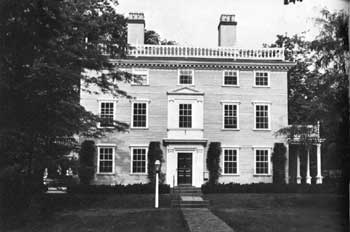 Elmwood. (National Park Service, Wrenn)
---
http://www.cr.nps.gov/history/online_books/declaration/site22.htm
Last Updated: 04-Jul-2004