---
Survey of
Historic Sites and Buildings
Poplar Forest
Virginia

Poplar Forest

Location: Bedford County, on the east side of County Route 661, about 6-1/2 miles west of Lynchburg.
In 1806-19 Thomas Jefferson designed and built this architecturally significant octagonal house on his 4,000-acre Bedford County plantation as a summer home and retreat. He occupied it intermittently until his death in 1826.
The plantation came into the possession of Jefferson through Martha Wayles Skelton, whom he married in 1772. For many years, whenever he visited it to superintend its management, he resided in a two-room cottage, the only dwelling. In June 1781, just after abdicating the governorship and narrowly escaping capture with a group of legislators during a British raid on Charlottesville, he temporarily moved his family to the cottage. Before the month was out, a horse threw and injured him. During his recuperation, he wrote Notes on the State of Virginia, a study of social and political life in 18th-century Virginia. In 1806-19 he erected Poplar Forest, whose completion coincided with his retirement from public office. When visitors became too numerous at Monticello or the fancy struck, he took up residence at his retreat for a month or two, usually twice a year. As the years went on, he refined the structure.
In 1845 a fire destroyed the roof and interior, leaving only the four chimneys, the brick walls, and possibly the portico columns. That same year, the present unadorned roof, octagonal and hipped like its predecessor, and dormers were added. Prior to the fire, there was a skylight and balustraded deck at the edge of the roof, with a Tuscan cornice below that extended around the building. The one-story brick building is set over a high basement. Because of the sloping ground on the rear side, the structure is two stories high there. One- and two-story tetrastyle Tuscan porticoes are attached to the front and rear of the house respectively. The front one is pedimented; the unpedimented rear one is built over a one-story arcade.
The original interior plan is unchanged. Four elongated octagonal rooms are grouped symmetrically around the present dining room, a square central room that was once lighted from above by the central skylight, not replaced in 1845. No aboveground traces remain of a flat-roofed office wing, referred to by Jefferson, but a kitchen and smokehouse still stand.
Poplar Forest, in good condition, is a private residence and is not open to the public.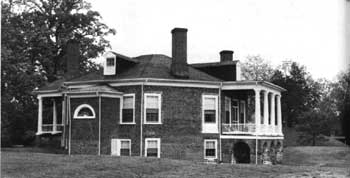 Poplar Forest. (National Park Service, Snell)
---
http://www.cr.nps.gov/history/online_books/declaration/site53.htm
Last Updated: 04-Jul-2004