---
Survey of
Historic Sites and Buildings
Thornton House
New Hampshire

Thornton House

Location: Rockingham County, 2 Thornton Street, Derry Village.
Matthew Thornton lived in this residence, which has since been considerably altered, during his medical and most of his political career. He probably acquired it in 1740, the year he moved from Worcester, Mass., to present Derry Village (then a part of London derry) to set up his medical practice. He resided in it until about 1780, when he retired as a doctor and moved to a farm near Merrimack, N.H.
The gable roof of the two-story frame structure, of the saltbox type, slopes steeply to the rear, or north, and forms a one-story lean-to. Two interior chimneys sit behind the ridge of the roof. The exterior, remodeled in the Greek Revival style probably in the mid-19th century, features giant pilasters on the front corners and a one-story portico over the center door. The clapboarding is a replacement of the original. All windows, including those in the gable ends, have exterior louvered shutters, and flat cornices surmount those on the first floor. A one-story frame service ell, extending from the northwest corner and giving the house its present L-shape, contains the modernized kitchen and what were once workrooms for servants.
Inside the house, a center hall bisects the rooms into two pairs and is divided into two sections, each with its own stairway on the east wall. To the east of the hall are the living room and modern laundry room; to the west, dining room and present family room. The two chimneys, built between the pairs of rooms to provide four fireplaces, one for each room, were rebuilt on a smaller scale in the early 19th century for use with Franklin stoves. Thus none of the original fireplaces and mantels exist any longer, but a 19th-century mantel remains in the dining room. The opposite fireplace in the family room, however, is modern. Features dating from the 18th century include the framing and wide floorboards, visible in all rooms except the family room where they are covered. The second floor contains three bedrooms.
The Thornton House, in fair condition, is used as a private residence and is not open to the public. Its present owner hopes to restore it.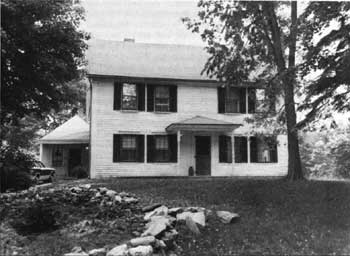 Thornton House. (National Park Service, Snell)
---
http://www.cr.nps.gov/history/online_books/declaration/site27.htm
Last Updated: 04-Jul-2004