---
Survey of
Historic Sites and Buildings
Governor Hopkins House
Rhode Island

Governor Hopkins House

Location: Providence County, 15 Hopkins Street, Providence.
Stephen Hopkins bought this framehouse in 1742 and resided in it until his death in 1785. It is the only extant structure closely associated with him. The oldest section, the lower level of the present southwest rear ell, dates from about 1707, when the small dwelling comprised two first-floor rooms and an attic. As soon as he acquired the building, Hopkins enlarged and remodeled it into its present L-shaped, two-story form.
The Georgian building, which has a gabled roof and two chimneys, is clapboarded. Cornices decorate the first-story windows. In 1928, during a major restoration, a reconstructed door, with triangular pediment and pilasters typical of the 18th century, was inserted in place of one of the four windows along the present front elevation. This door, the only major alteration in the house, became the main entrance. It replaced a door on the west side, which opens into the original kitchen and is still extant.
The central hall, along the east wall of which is the main stairway, divides the front of the residence into two rooms, study and parlor. The recessed parlor bookshelves, set in paneling above the hearth, are distinctive. The paneling of the two fireplaces in the study and ell is simpler. A passageway leads from the parlor to the southwest ell, which consists of the original kitchen and in the southeast corner a small bedroom. Five bedrooms, two of which are equipped with fireplaces, are located upstairs. The interior of the house, including stairs, woodwork, floors, and fireplaces, is largely original. The fine garden was designed by a descendant of Stephen Hopkins, the late Alden Hopkins, prominent landscape architect.
The Governor Hopkins House, first located on the northeast corner of Hopkins and South Main Streets, was moved eastward in 1804 along the north side of and about halfway up Hopkins Street. In 1927, to make way for the construction of a new courthouse, the building was again relocated eastward along the same street, to its present site, and the next year was restored. Since that time, the State of Rhode Island has owned the house and maintained the exterior and grounds. The Society of Colonial Dames in the State of Rhode Island maintains and administers the interior as a historic house museum.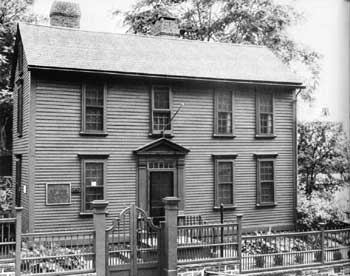 Governor Hopkins House. (National Park Service, Wrenn)
---
http://www.cr.nps.gov/history/online_books/declaration/site42.htm
Last Updated: 04-Jul-2004