---
Survey of
Historic Sites and Buildings
Hopkinson House
New Jersey

Hopkinson House

Location: Burlington County, 101 Farnsworth Avenue, Bordentown.
Owned by the Hopkinson family for several generations, this house was the residence of signer Francis Hopkinson from 1774 until his death in 1791. It was built in 1750 by merchant John Imlay (Emley), who used part of it as a store. Sometime before 1768 Joseph Borden, a prominent New Jersey citizen, acquired it. Hopkinson married his daughter at Philadelphia in 1768, and, after a tour as customs collector at New Castle, Del. (1772-74), moved to Bordentown and took up residence with his father-in-law.
Upon Hopkinson's death, his eldest son, Joseph (1770-1842), inherited the house. He achieved fame as composer, lawyer, judge, and politician. Among his distinguished guests were Irish poet Thomas Moore, Thomas Paine, and Joseph Bonaparte, Napoleon's brother. The Hopkinson family retained possession of the property until 1915; since then, it has been owned by the Wells family.
The Hopkinson House is an L-shaped, brick and frame structure with a gambrel, dormered roof. The main 2-1/2-story section is constructed of brick. The center door is topped by a rectangular transom, flanked by sidelights, and sheltered by a segmental hood. A central hall, divided into two sections by means of a wide folding door with an arched fanlight above, bisects the first floor into two large rooms, living room and library. Both of these are currently used by the Bordentown Chamber of Commerce as an office and museum, open to the public. The front portion of the central hall serves as an entrance hall; the rear section, as the stair hall. A narrow hall extends from the stair hall south across the rear of the main house. The second and third floors, each containing four bedrooms, are used as apartments.
A two-story brick wing extends to the rear from the northeast corner of the main section. Its first-floor dining room and the two bedrooms comprising the second. floor form an apartment unit. Attached to this wing at the rear of the brick arm is a two-story frame wing that once contained the kitchen and servant's bedroom.
The exterior of the house, except for the metal roof, appears to be little altered. Interior features are plastered walls, wide floor boards, and 19th-century mantels. Much of the original woodwork and trim has apparently been replaced, but the basic floor plan has not been greatly changed. The residence is in good condition.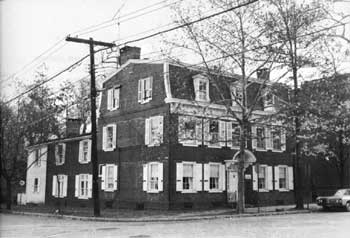 Hopkinson House. (National Park Service, Snell)
---
http://www.cr.nps.gov/history/online_books/declaration/site28.htm
Last Updated: 04-Jul-2004