---
Survey of
Historic Sites and Buildings
Doughoregan Manor
Maryland

Doughoregan Manor

Location: Howard County, on the west side of Manor Lane, about 1 mile south of Md. 144 and 8 miles west of Ellicott City.
Charles Carroll III of Carrollton preferred this manor, the ancestral family home, over his other residences. He lived in it for most of the period 1766-1832 rather than at Carrollton Manor or his Annapolis townhouse. In 1717 Charles Carroll I had acquired the 10,000 acres that originally comprised the estate. His son Charles II probably built the main section of the mansion about a decade later. In the 1760's Charles III inherited it. In the 1830's, after his death in 1832, it was greatly enlarged. It is still owned and occupied by the Carroll family.
Much changed over the years, Doughoregan Manor is now an architecturally distinguished complex of buildings united into one long structure, about 300 feet in extent. The original manor was a Georgian, 1-1/2-story, brick structure with gambrel roof and two pairs of end chimneys. A kitchen-servants' quarters and a chapel, both probably one-story and constructed of brick about 1780, stood detached from the house, on the south and north respectively.
In the 1830's Charles Carroll V undertook a comprehensive expansion in the Greek Revival style that converted the manor to its present five-part composition. He raised the main house to two stories and cut off the gable roof to form a flat deck, which was balustraded and surmounted by an octagonal cupola. At the front (east) center door he added a one-story portico with four Doric columns. To the rear of the residence, he attached another portico, over which he erected a room. Along both sides of the rear portico, he constructed a covered, one-story veranda with iron columns that extended the length of the main house. The heights of the kitchen-servants' quarters and the chapel were raised and they were connected to the main house by two-story wings, topped by unifying wooden walkways.
Inside the central part of the mansion, an oak-paneled central hall extends from front to rear. The principal stairway is located in a small side hall adjacent to the front of the main hall. On one side of the main hall in the 1727 portion of the house are library and large parlor; on the other, small parlor and dining room. The second-floor bedrooms, remodeled in the 1830's, were completely renovated and redecorated about 1915. The chapel, refurbished in the 1830's and again after the Civil War, is in good condition and is still used as a parish church. It is one of the few surviving private chapels in the United States dating from the 18th century. The grave of Charles Carroll III is located next to the altar.
The estate, comprising 2,800 acres, and mansion are well maintained. They are not open to the public.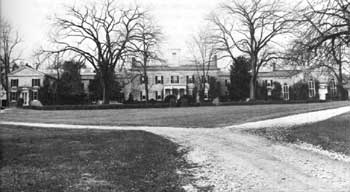 Doughoregan Manor. (National Park Service, Snell)
---
http://www.cr.nps.gov/history/online_books/declaration/site15.htm
Last Updated: 04-Jul-2004