---
Survey of
Historic Sites and Buildings
Maybury Hill
New Jersey

Maybury Hill

Location: Mercer County, 346 Snowden Lane, Princeton.
Maybury Hill, built about 1725, was the birthplace and boyhood home of North Carolina signer Joseph Hewes. His father leased it from 1730 until 1755.
The house provides a fine example of Georgian architecture. It was originally a small, two-story stone structure with gable roof. A short distance away, at the northeast corner, stood a detached kitchen building. In 1735, following a fire, the main house was rebuilt. In 1753 a major addition was made on the north side connecting it with the kitchen building. This resulted in an L-shaped, two-story structure with gabled roof and three end chimneys. The only alteration of consequence since that time occurred about 1900, when the fieldstone exterior walls were covered with concrete.
Flat brick arches top the windows. Second-story windows have exterior louvered shutters; those on the first, paneled shutters. Today the house has a center hall floor plan. To the south of the hall is the large parlor, which dates from 1725. To the north are the dining and living rooms, added in 1753. Both of them have paneled walls, shell cabinets, and exposed ceiling beams. The kitchen, dating from 1725, is still in the northeast corner of the building. The dining room fireplace is faced with tile. Four bedrooms occupy the upstairs. All the floors are constructed of wide boards.
Little-altered Maybury Hill was renovated in 1920, and is still in excellent condition. A private residence, it is not open to visitors.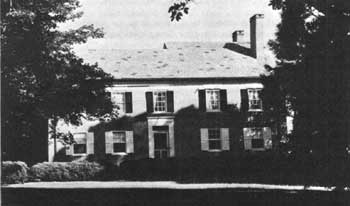 Maybury Hill. (Historical Society of Princeton, N.J., photographer, Constance Greiff.)
---
http://www.cr.nps.gov/history/online_books/declaration/site29.htm
Last Updated: 04-Jul-2004