---
Survey of
Historic Sites and Buildings
Elsing Green
Virginia

Elsing Green

Location: King William County, on a private road about 1 mile southwest of Va. 632, some 10 miles southwest of King William Court House.
In 1758, while Carter Braxton was visiting in England, his brother George probably built for him this impressive plantation home on a high bluff overlooking the Pamunkey River. Upon his return in 1760, Carter took up residence in it and lived there until 1767. He then moved to a new residence, Chericoke, a few miles to the northwest.
The exterior is original, but about 1800 a fire destroyed the interior. The present 18th-century style woodwork is a 20th-century reconstruction. The Georgian structure of brick, laid in Flemish bond, is U-shaped. Two wings project to the north, or rear, of the central section. The large building is two stories in height and has a hip roof and four tall chimneys. Side doors are centered in each wing, and there are also central doors in the front and rear facades of the main house. The door on the front, or river, facade, with gauged brick triangular pediment, is a reconstruction.
The flat window arches are constructed of splayed brick. The second-floor level is marked by a strong course of gauged brick, un-molded and four courses high. Two old, detached, brick dependencies, 1-1/2 stories high, flank the mansion. The eastern one may date from 1719; the western contains a restored kitchen. A reconstructed smokehouse and dairy rest on their original, symmetrically located, foundations.
An off-center hall extends northward halfway through the main arm of the U from the south, or front, entrance and intersects with an east-west lateral hall running the length of the main mansion. The ends of this long cross hall each contain a stairway set against the south wall. The southeast corner of the residence is occupied by a large parlor; the southwest corner, by a smaller living room; and each of the north wings, by a single large room. Four bedrooms are upstairs, which has the same general plan as the ground floor.
The carefully restored house and well maintained estate, which now includes about 3,000 acres, are in excellent condition but are privately occupied and not open to visitors.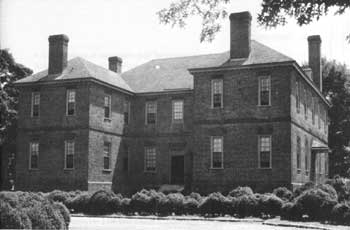 Elsing Green. (National Park Service, Littleton)
---
http://www.cr.nps.gov/history/online_books/declaration/site48.htm
Last Updated: 04-Jul-2004