---
Survey of
Historic Sites and Buildings
Hancock-Clarke House
Massachusetts

Hancock-Clarke House

Location: Middlesex County, 35 Hancock Street, Lexington.
The only extant residence associated with John Hancock, this was his boyhood home. In 1744, upon the death of his father at Quincy, the 7-year-old boy came to live at this house with his grandfather, Rev. John Hancock. In 1750 the lad joined his childless uncle, Thomas Hancock, a wealthy Boston merchant who adopted him.
By the time of the Revolution, Rev. Jonas Clarke, a relative by marriage of the Hancocks, occupied the house, which had been built as a parsonage by Rev. John Hancock. Clarke encouraged Revolutionaries to use his home as a meetingplace and refuge. On the evening of April 18, 1775, patriot leaders Hancock and Samuel Adams were visiting there. Around midnight, after everyone had gone to bed, Paul Revere and later William Dawes, warning the countryside of the approach of British troops, galloped up and in formed the household. A few hours later, Hancock and Adams fled northward to Burlington, Mass. They later moved from place to place, staying away from Boston, until they proceeded to Philadelphia to attend the Continental Congress, which convened the next month.
The Hancock-Clarke House consists of two frame sections, erected by Rev. John Hancock at different times. The original one, built in 1698, presently forms the small rear ell, 1-1/2 stories high with gambrel roof. A living room-kitchen and tiny study are located downstairs and two low-studded chambers upstairs. The 2-1/2-story front, or main, section of the house dates from 1734 and was financed by Thomas Hancock for his father. It has a large central chimney and contains a short center hall and two rooms on each of the two floors.
In 1896, when the building faced demolition, the Lexington Historical Society acquired it and moved it from across the street to its present location. In 1902 the society constructed a rear brick addition containing a fireproof vault to protect its more valuable possessions. Restored to its 18th-century appearance and well maintained, the Hancock-Clarke House is open to the public and serves as headquarters of the society. Recently the society purchased the original site of the house, where foundations are visible.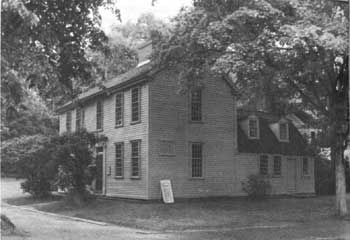 Hancock-Clarke House. (National Park Service, Snell)
---
http://www.cr.nps.gov/history/online_books/declaration/site24.htm
Last Updated: 04-Jul-2004