---
Survey of
Historic Sites and Buildings
Peggy Stewart House
(aka Rutland-Jenifer-Stone House)
Maryland

Peggy Stewart House

Location: Anne Arundel County, 207 Hanover Street, Annapolis.
Thomas Stone purchased this Georgian residence in 1783 and until his death 4 years later occupied it while in Annapolis, though he maintained his home at Habre-de-Venture in Charles County. The Peggy Stewart House was built sometime between 1761 and 1764 by Thomas Rutland. Its owner in the period 1772-79 was Anthony Stewart, an Annapolis merchant. In 1774 Revolutionaries forced him to burn his ship, the Peggy Stewart, when he attempted to land a cargo of tea on which he had paid taxes. Five years later, he fled to England.
Over the years, the rectangular brick house has been substantially modified on both the exterior and interior. Its 2-1/2 stories rest on an elevated basement. At the time of a major alteration in 1894, the gable roof was replaced by the present hip roof, which has a cutoff deck and balustrade, and the chimneys were rebuilt in their current form. Two gabled dormers are located at the front of the roof and one at each side. Highlighting the ends of the house are central pavilions, which have triangular pediments with round center windows. The chimneys cut through the front corners of the pediments. A wooden box cornice with frieze board below extends around the eaves. A large wing at the rear is a later addition.
The front facade of the house is comprised of all-header bond and the sides of English bond. The basement and first-story windows are topped by segmental arches, but the second-story windows have flat ones. The sills are of stone, and louvered shutters flank the first- and second-floor windows. The front entranceway, sheltered by a small wooden porch with a triangular broken pediment, has a paneled door that is surmounted by a rectangular glazed transom.
In 1837 the house had 12 rooms, eight of which were equipped with fireplaces. The original portion of the house, excluding the rear addition, has a center hall floor plan. The stairs are set against the east wall, beyond which is a large living room. A parlor and dining room are situated to the west of the hall. Five bedrooms are located up stairs. The interior of the house has been extensively remodeled in recent times. Only one fireplace, in the southeast front room on the second floor, retains its original mantel.
The Peggy Stewart House, also known as the Rutland-Peggy Stewart House,the Rutland-Stewart-Stone House, and the Rutland-Jenifer-Stone House, is privately owned and is not open to the public. It is part of Colonial Annapolis Historic District.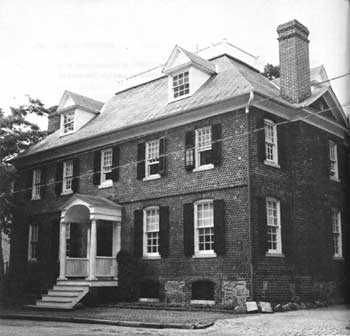 Peggy Stewart House. (National Park Service, Littleton)
---
http://www.cr.nps.gov/history/online_books/declaration/site18.htm
Last Updated: 04-Jul-2004