---
Survey of
Historic Sites and Buildings
Gerry Birthplace
Massachusetts

Gerry Birthplace

Location: Essex County, 44 Washington Street, Marblehead.
Elbridge Gerry was born in this framehouse and resided in it until 1787, when he moved to Cambridge, Mass. His father, Thomas, had built it about 1730, and it remained in possession of the Gerry family until 1820.
Architectural evidence strongly suggests that the L-shaped building was originally a two-story Georgian structure. About 1820 the two stories were apparently raised and a third one built underneath. Since that time, changes have been slight. The original interior finish of the first story is entirely 19th century, and the original paneling on the walls of the second story is clearly 18th century.
Today, the exterior is clapboarded. The long arm of the ell faces north toward the street. A central hall divides the first floor of the long arm into two rooms, the east and west parlors, both with 19th century mantels, fireplaces, and flanking arched alcoves. The west parlor opens into the short arm of the ell, which extends southward to the rear and contains the dining room. Attached to the rear of the short arm is a small rear service wing containing an L-shaped, one-story kitchen. A one-story open veranda runs around the east and south elevations of the long side of the ell, and a small porch flanks the dining room on its west side. The second story contains three bedrooms, all displaying the original 18th-century paneling on the fireplace walls. The third floor consists of four bedrooms.
The house and grounds, privately owned and not open to the public, are well maintained.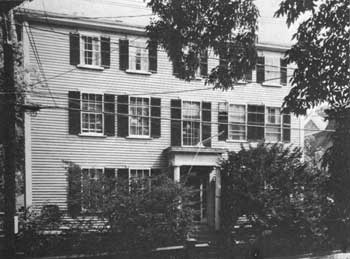 Gerry Birthplace. (National Park Service, Wrenn)
---
http://www.cr.nps.gov/history/online_books/declaration/site23.htm
Last Updated: 04-Jul-2004