---
Survey of
Historic Sites and Buildings
President's House
New Jersey

President's House

Location: Mercer County, on Nassau Street just northwest of Nassau Hall, on the Princeton University campus, Princeton.
From 1756 until 1879 this house was the official residence of the president of the College of New Jersey (Princeton University after 1896). In 1768, when John Witherspoon emigrated from Scotland to America to assume the presidency, he occupied it. While living there, he represented New Jersey in the Continental Congress and signed the Declaration. In 1779 he moved to his nearby farm, Tusculum. From then until 1794 his son-in-law Samuel S. Smith, vice president of the college, resided in the President's House. From 1879 until 1968 it was the home of the Dean of the Faculty and was known as the "Dean's House." Since 1968, it has been called the Maclean House and has been used by the Princeton Alumni Council.
The Georgian building was designed and constructed in 1756 by Robert Smith, a master carpenter of Philadelphia. Both on the exterior and the interior, it has changed only slightly throughout the years. It was originally a two-story brick structure, rectangular in shape, with gable roof. A one-story polygonal bay extends westward from the rear southwest corner. Near the same corner, a two-story service wing of brick and stone runs southward. Above the windows of the main facade are flat stone winged arches with keystones. Over the center door is a fanlight surmounted by a triangular pediment. The exterior has retained its original appearance and arrangement except that small double dormers were later inserted in the center of the front and rear roofs to create a third level. Additions in 1868 were a wide one-story frame porch on the front of the residence and a one-story frame, polygonal bay on the east side near the northeast front corner.
The center door opens into a central hall that extends through the house to rear stairs, against the east wall. To the east of the hall are a library and study. The fireplace wall in the library is fully paneled. To the west of the hall are a parlor and dining room. The second floor of the main house contains four bedrooms; the third floor, three additional rooms. Two bedrooms are located on the second floor of the service wing. In excellent condition, the house is open to the public.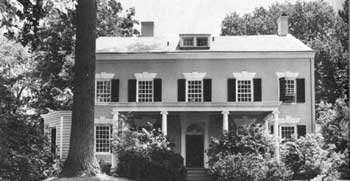 President's House. (Department of Public Information, Princeton University, Princeton, N.J.)
---
http://www.cr.nps.gov/history/online_books/declaration/site31.htm
Last Updated: 04-Jul-2004