---
Survey of
Historic Sites and Buildings
Berkeley
Virginia

Berkeley

Location: Charles City County, on the south side of Va. 5, about 8 miles west of Charles City.
In historical interest this fine mansion has few rivals among the James River plantations. It was the birthplace and lifelong home of Benjamin Harrison V (1726-91), signer of the Declaration and three-term Governor of Virginia, as well as the birthplace and boyhood residence of his son, William Henry (1773-1841), ninth President of the United States and grandfather of Benjamin (1833-1901), the 23rd President. William Henry probably wrote his 1841 inaugural address at Berkeley in the room in which he had been born.
Benjamin Harrison IV, the signer's father, built the structure in 1726. In 1781 British troops under Benedict Arnold plundered the plantation, but did not seriously harm the mansion. In the 1790's one of the Harrisons, probably Benjamin VI, made some architectural alterations and redecorated the interior in the Adam style. By the time of the Civil War, the plantation was known as Harrison's Landing. In 1862 it served as a supply base and camp for the Union Army of the Potomac following its retreat from the Battle of Malvern Hill, Va., which ended the Peninsular Campaign. Gen. George B. McClellan utilized the mansion as his headquarters. While quartered nearby, Gen. Daniel Butterfield composed the famous bugle call "Taps."
The early Georgian mansion has been altered somewhat over the years, but retains much of the original structure and character. It is 2-1/2 stories high and has a dormered, gable roof with two tall interior ridge chimneys, and distinctive pedimented gable ends, including modillioned cornice. The brick walls are laid in Flemish bond. Gauged brick is employed in the flat window arches, the belt course, and door pediments. The broad-piered central doors on the north and south elevations, with pediments in gauged brick, are reconstructions. Two detached, two-story, brick dependencies, set slightly south of the house on the river side, were built in the 1840's to replace similar structures that had been erected sometime before 1800.
The center hall plan has been slightly modified. The hall bisects the four rooms on the first floor into pairs. A small stairs in the northwest corner was probably inserted about 1800. Most of the interior finish clearly reflects the Adam alterations of the 1790's.
By 1915 the mansion was in poor condition. Subsequent owners have reconstructed and restored it to its 18th-century appearance. This included removal of a 19th-century porch on all four sides, replacement of the window sash and exterior door framings, and re-construction of the center stairs. The upper floors are used as a private residence, but the basement and first floor may be visited. The unmarked grave of signer Benjamin Harrison is located in the family cemetery, a quarter of a mile southeast of the plantation house.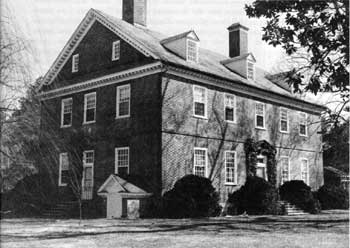 Berkeley. (National Park Service, Snell)
---
http://www.cr.nps.gov/history/online_books/declaration/site47.htm
Last Updated: 04-Jul-2004