---
Survey of
Historic Sites and Buildings
Carrollton Manor
Maryland

Carrollton Manor

Location: Frederick County, on the south side of Manor Wood Road, immediately east of the East Alco Aluminum Company Plant, just west of Buckeystown.
In 1765 Charles Carroll, returning to Maryland after completing his extensive education in Europe, built this home near the mouth of the Monocacy River along Tuscarora Creek on a 10,000-acre tract of land he had acquired from his father. Young Carroll never spent much time at Carrollton Manor. Shortly after he had constructed it, his father died, and he preferred to spend his time at Doughoregan Manor, the ancestral family home in Howard County.
The rectangular manor is constructed of native limestone. It rises 2-1/2 stories above an elevated basement. A pair of chimneys are located at the west end of the gable roof, and a single chimney at the east end. A later one-story addition extends from the east end. The central door, sheltered by a one-story porch on the north, is topped by a rectangular transom and flanked by sidelights, both probably dating from the Greek Revival period. Dating from the same time are the two triple windows in the first story at the rear of the house. A one-story porch that once extended across that elevation has been removed.
The house contains four rooms on each floor. East of the front entrance is a stair hall and a spacious dining room; to the west, a library and living room. Large double doors connect the living and dining rooms. The second floor contains four bedrooms; the attic, four more.
Upon Carroll's death, his descendants inherited the manor. In 1968 an aluminum company bought the property and erected a large office and plant buildings and a spur railroad track to the west of the house. In excellent condition, though never restored, it is today used as a company residence and is not open to visitors. A nearby chapel, erected by Carroll, is still used as a parish church.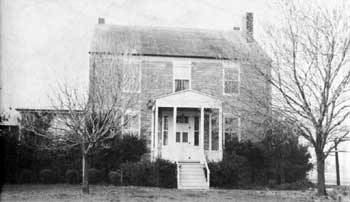 Carroll Manor. (National Park Service, Snell)
---
http://www.cr.nps.gov/history/online_books/declaration/site12.htm
Last Updated: 04-Jul-2004