---
Survey of
Historic Sites and Buildings
Nash-Hooper House
North Carolina

Nash-Hooper House

Location: Orange County, 118 West Tryon Street, Hillsborough.
The Nash-Hooper House is the only extant residence that can be associated with William Hooper and is the only surviving home of a signer in the State. It was built in 1772 by Francis Nash, who later attained the rank of brigadier general in the Continental Army and lost his life in the War for Independence. In 1782, after the British had driven Hooper into hiding and destroyed his estate Finian near Wilmington, he moved to Hillsborough, where his family had fled. He purchased the Nash-Hooper House and resided in it until his death in 1790. Subsequently, from 1869 until 1875, it was the home of William A. Graham, former Governor of North Carolina.
The original portion of the rectangular, two-story house was constructed with a braced oak frame that was held together by pegs and pins. It rests on shale foundations over an elevated basement, in which are located two rooms and a center hall. The roof is gabled, with a chimney at each end. A one-story, frame, "sitting room" (later dining room) wing, added in 1819 on a log base, extends from the rear, or north, of the house and creates its present L-shape. Weatherboarded siding covers both sides of the wing and the front of the main section. All the windows are flanked with exterior louvered shutters. The one-story porch spanning the front of the house dates from the late 19th century. A detached kitchen, erected in 1819 just east of the house adjacent to the storeroom and dining room in the north wing, was demolished in 1908. Sometime during the period 1939-59, the dining room in the north wing was converted into the present kitchen, and bathrooms were installed in the residence.
The center hall of the main house is divided into two sections by means of an arch near the rear. West of the hall are a large library and a small study or bedroom; to the east, a large parlor and in the rear corner a narrow, lateral stair hall, with the stairs set against the north wall. Three bedrooms are located on the second floor, and the attic is unfinished. Wide floorboards are exposed throughout most of the main house. An original pine mantel remains in the dining room.
Although the little-altered Nash-Hooper House is structurally sound, it has never been restored, and extensive painting and plastering will be required to return it to good condition. It is privately owned and is not open to the public.
Hooper was buried to the east of his home in the garden. That part of the garden was later absorbed by the town cemetery, behind the Presbyterian Church. In 1894 Hooper's remains were reinterred at Guilford Courthouse National Military Park, N.C., though his original gravestone remains in the Hillsborough cemetery.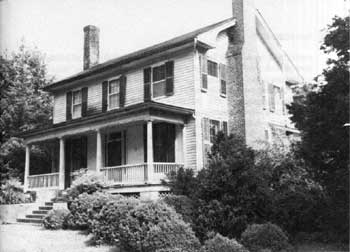 Nash-Hooper House. (National Park Service, Snell)
---
http://www.cr.nps.gov/history/online_books/declaration/site36.htm
Last Updated: 04-Jul-2004