---
Survey of
Historic Sites and Buildings
Hopsewee-on-the-Santee
South Carolina

Hopsewee-on-the-Santee

Location: Georgetown County, on an unimproved road just west of U.S. 17, about 13 miles southwest of Georgetown.
Erected by his father during the 1740's, this house on the north bank of the North Santee River was the birthplace in 1749 and the boyhood home of Thomas Lynch, Jr. He lived in it until his father sold it in 1763, the year before young Lynch sailed to Europe to continue his education. It is the only surviving residence closely associated with him.
The 2-1/2-story framehouse rests on a brick foundation, which is covered with scored tabby. Two front dormers and two interior chimneys protrude from the hip roof. A broad, two-story porch, or piazza, with square columns extends across the front of the building. The frame, comprised of black cypress, is of mortise-and-tenon construction, and the walls are clapboarded. Exterior paneled shutters flank the first- and second-story windows. Except for the present metal roof and the screening of the front porch, the outside of the structure has not been appreciably altered.
The central hall arrangement divides four rooms into pairs on the first two floors. All the rooms are equipped with fireplaces. Throughout, the mantels, wainscoting, cornice mold, and heart pine floors are original and excellently crafted. The full cellar is constructed of brick and divided into rooms. Two one-story, cypress, shingled out buildings, located to the northeast and northwest of the main house, probably once served as kitchens. About 1948, by which time the house had fallen into decay and the grounds were overgrown, the present owner acquired the property, restored the garden, and repaired the residence. In fine condition, it is privately occupied, but is shown to the public part of the week.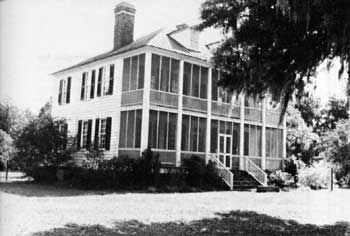 Hopsewee Plantation. (National Park Service, Snell)
---
http://www.cr.nps.gov/history/online_books/declaration/site44.htm
Last Updated: 04-Jul-2004