---
Survey of
Historic Sites and Buildings
Moffatt-Ladd House
New Hampshire

Moffatt-Ladd House

Location: Rockingham County, 154 Market Street, Portsmouth.
An outstanding example of a late Georgian mansion, this impressive three-story structure was the longtime residence of William Whipple. Ship carpenters constructed it in 1763 for John Moffatt, a sea captain and wealthy merchant. He presented it the following year as a wedding gift to his son, Samuel, a merchant-shipowner. In 1768, after the latter had failed in business and fled to the West Indies to escape creditors, Captain Moffatt reacquired it and lived in it for the rest of his life. Whipple and his wife, Catherine, Moffatt's daughter, moved into the house the same year as the captain. Whipple resided there until his death in 1785; his wife and apparently his father-in-law, too, survived him.
The square, clapboarded building stands on a slight elevation overlooking old Portsmouth Harbor. Noteworthy features of the elaborate exterior include white corner quoins and richly pedimented first- and second-floor windows. The third-story windows, smaller in size, abut the distinctive cornice. Side windows, like those on the third-floor front, lack pediments. Rear windows on the first two stories have flat arches with lengthened keystones. The hip roof, flanked by three end chimneys, is cut off to form a flat deck, or captain's walk, which is enclosed by an attractive balustrade with urn finials. A delicate fence with large ornamental posts, also topped by urn finials, spans the front of the house, which is approached by a flight of granite steps that lead up to the portico-covered entrance-way. Near the front northeast corner of the residence is the countinghouse, or office (1810), a small, square building with a hip roof.
The interior of the house is as highly embellished as the exterior. The outstanding room on the first floor is the unusually spacious entrance hall, one of the finest in New England. Its carved cornice is handsome, and the walls are covered with rare imported French wallpaper of the early 19th century. The beautiful and finely carved flight of stairs is lighted by a roundheaded window in the side wall above the landing. Except for the simple detail in the drawing room, that in other first-floor rooms—dining room and pantry—is rich. Four bedrooms are located on the second floor, and five additional chambers on the third. Three of the second-floor bedrooms have richly carved overmantels.
The carefully restored house and grounds were owned by the Ladd family, descendants of the Moffatts through marriage, until 1969. From 1913 until 1969, they leased the house to the Colonial Dames of America, which maintained it for public display. In 1969 the Colonial Dames acquired full title to the property. The first two floors of the house are furnished in period pieces, and the third floor is not open.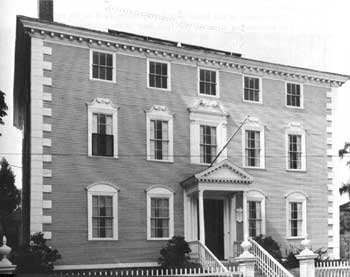 Moffatt-Ladd House. (National Park Service, Wrenn)
---
http://www.cr.nps.gov/history/online_books/declaration/site26.htm
Last Updated: 04-Jul-2004