---
Survey of
Historic Sites and Buildings
Carroll Mansion)
(aka Carroll-Caton House)
Maryland

Carroll Mansion

Location: 800 East Lombard Street, Baltimore.
This was the winter home of Charles Carroll of Carrollton during his twilight years and the site of his death in 1832. Christopher Deshon, a Baltimore merchant, built it in 1811-12, and in 1818 sold it to Richard Caton, husband of Carroll's youngest daughter, Mary. Carroll spent the winters there with the couple until his demise. The rest of the time, he resided at Doughoregan Manor in Howard County.
The Deshon-Caton-Carroll Mansion, a good example of Classic Revival architecture, is constructed of brick laid in Flemish bond. It stands 3-1/2 stories high. Six pedimented dormers—three each at the south (front) and north elevations—as well as a central chimney and two end chimneys pierce the low gable roof. A belt course at the second-floor line and dentil cornice at roof level, both of sandstone, extend across the north and south elevations. Recessed rectangular panels of wood are inserted between the second- and third-story windows of the south and west elevations. A large semicircular window is located in the west gable of the attic story. The wide-paneled center door at the main entrance to the house is sheltered by an Ionic marble portico surmounted by an iron railing.
The central hall plan provides for four large rooms, two on each side of the hallway on each of the first three floors. The front entrance opens into a stair hall, in which an elegant spiral stairway rises in an open well up through the three stories. A counting room for business purposes, family dining room, breakfast room, and study occupy the first floor. The second floor, once used primarily for recreation and formal entertainment, contains a large parlor, formal dining room, music room, and library. Bedrooms occupy the third floor, and the attic at one time contained slave quarters.
The house remained in the Caton family until 1856. During the last quarter of that century, a furniture store occupied the first floor, and the owner divided the upper floors into apartments. In 1914 the city of Baltimore acquired the building, and 3 years later put it to use as the "Carroll Vocational School." From about 1930 until 1956 the structure served as a recreation center. Subsequently the house faced the threat of demolition, prevented by the efforts of the Charles Carroll American Heritage Association, Inc. In 1963 the mayor of Baltimore decided that the residence should be preserved. Upon completion of restoration and renovation, in 1967, it was placed under the Municipal Museum, a nonprofit corporation. It became part of the Baltimore City Life Museums in 1985, then changed hands to Carroll Museums, Inc. in 1997, which is rennovating it for public viewing.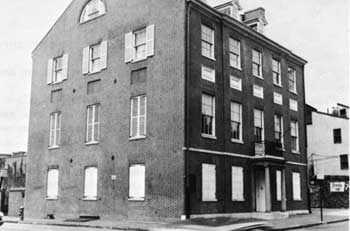 Carroll Mansion. (National Park Service, Snell)
---
http://www.cr.nps.gov/history/online_books/declaration/site14.htm
Last Updated: 13-Jan-2005