---
Survey of
Historic Sites and Buildings
Iredell House
North Carolina

Iredell House

Location: Chowan County, 107 East Church Street, Edenton.
Early in 1798, in a state of extreme mental anguish because of mounting debts brought on by unwise speculation in lands, James Wilson, probably while visiting North Carolina on Federal circuit court matters, took refuge in this house. It was the home of his friend and fellow U.S. Supreme Court Justice James Iredell. Within a few months, Wilson died there.
The little-altered Iredell House is a large L-shaped structure. It is constructed of frame and is two stories in height with gable roof. Two-story verandas span the front, or south, and rear elevations of the long arm of the ell. The building was erected in three stages. The earliest, the present short, or east, arm of the ell, was built in 1759 by John Wilkins, with its narrow gable end fronting on the street. In 1776 Joseph Whedbee enlarged the structure by adding to its west side the two easternmost bays of the present five-bay long arm. In 1810 Iredell's widow extended the arm by three bays to its present size and added the verandas.
The original section of the house contains a living room and one other room on the first floor and two bedrooms on the second. The first floor of the 1776 section consists of the dining room; the second floor, a large bedroom. These two sections are furnished as a historic house museum and are open to the public. The remaining section of the long arm, dating from 1810, serves as the caretaker's quarters. The State owns and administers the residence.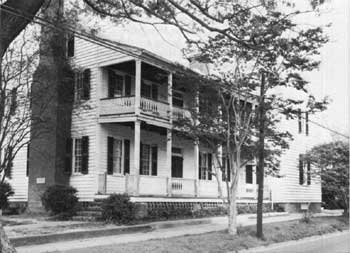 Iredell House. (National Park Service, Snell)
---
http://www.cr.nps.gov/history/online_books/declaration/site35.htm
Last Updated: 04-Jul-2004