---
Survey of
Historic Sites and Buildings
Meadow Garden
Georgia

Meadow Garden

Location: Richmond County, 1320 Nelson Street, Augusta.
About 1790 Gov. George Walton moved from Savannah to Augusta, then the capital. At that time, he built Meadow Garden cottage at the northern edge of the city, on confiscated Loyalist lands in his possession. He resided in it until 1795, the year he constructed and occupied a larger home, College Hill, just west of Augusta. He deeded Meadow Garden under trusteeship to Thomas Watkins, who later conveyed it to George Walton, Jr. Over the years, it has been doubled in size and otherwise altered.
Meadow Garden was originally a modest 1-1/2-story cottage of frame construction built over a high brick basement. The gable roof was pierced by two front dormers and an interior central chimney. Windows were located in the gable ends. An entrance door and hall were situated on the western bay of the south facade, which had three bays. Two rooms on the first floor opened off the east of the hall, and the basement contained two more finished rooms.
Sometime after 1800 the house was enlarged and converted into a central hall type by a major three-bay wide extension to the west of the side hall, which became the central hall. The gable roof of the original building was extended over the new portion, which was also equipped with an interior chimney. About 1903 a single dormer was added to the extension. The two first-floor rooms in the addition, which lacks a cellar, are about two steps lower than the two in the original structure. The second floor of the present house contains four bedrooms. A one-story porch, probably not original, extends across the front, or south, side. Its Doric columns rest on square pedestals and are linked by a light balustrade. About 1903 a one-story kitchen was added to the rear northwest corner of the house.
Many interior features are intact, but the plaster walls are covered with paper. The southwest room, or library, located in the 1800 addition and restored in 1969, contains an excellent late Georgian mantel and overmantel. The building has been roofed with modern material.
The National Society of the Daughters of the American Revolution acquired the residence in 1900, and the following year opened it to visitors. In 1960 the National Society presented it to the State Society. It is currently operated as a historic house museum by the Augusta Chapter. A caretaker's residence is located on the grounds.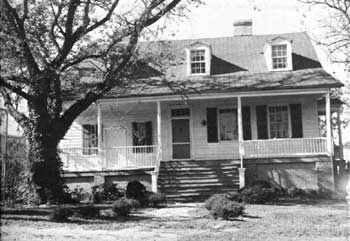 Meadow Garden. (National Park Service, John O. Littleton)
---
http://www.cr.nps.gov/history/online_books/declaration/site8.htm
Last Updated: 04-Jul-2004