---
Survey of
Historic Sites and Buildings
Taylor House
Pennsylvania

Taylor House

Location: Lehigh County, on Front Street, Catasauqua.
In 1768 George Taylor employed Philadelphia carpenters to build this stone residence on the east bank of the Lehigh River, about 15 miles west of Easton at the site of present Catasauqua. The structure was located on a 331-acre tract of land, known as the "Manor of Chawton," which he had acquired the previous year. In 1771 he leased out most of the manor as a farm, and 5 years later sold the house and land to Philadelphia merchant John Benezet.
The rectangular residence is Georgian in style and consists of two stories over an elevated basement. The thick walls are built of stone masonry rubble faced with a whitish, slaked-lime stucco. Over the windows are flat arches of gauged brick. First-floor windows have exterior solid-panel shutters; those on the second floor, louvered. A heavy, overhanging cornice surrounds the truncated hip roof. The brick chimneys at both ends are symmetrically paired. A two-story stone kitchen wing, dating from about 1800, adjoins the house at the south end.
At the center of the front, or west, facade, a flight of marble pyramidal steps lead up to a double door, over which are a rectangular transom and triangular pediment. The central hall, which extends to the rear of the house toward the stairway, is divided by an archway, with fluted pilasters. Situated to the north of the hall are living room and parlor; to the south, dining room and reception, or service, room. Of special interest in the dining room, parlor, and living room are the finely executed door pediments and fully paneled fireplace walls. Other walls in these rooms have paneled wainscots and finely detailed chair rails. The fireplace paneling and mantel in the dining room date from the 19th century and represent the Greek Revival style, but the rest of the first-floor paneling and mantels are original, as are also the wide pine floorboards and iron hardware.
The second floor consists of four bedrooms and two small dressing rooms. The fireplace paneling in the two bedrooms on the front side of the house is almost as elaborate as that downstairs. A 1-1/2-story, brick summer kitchen, near the rear of the house, dates from about 1850.
The slightly altered Taylor House, acquired in 1945 by the Lehigh County Historical Society and restored in 1966-68, is in excellent condition and is open to the public.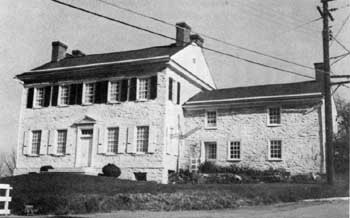 Taylor House. (National Park Service, Snell)
---
http://www.cr.nps.gov/history/online_books/declaration/site41.htm
Last Updated: 04-Jul-2004