---
Survey of
Historic Sites and Buildings
Adams (John) Birthplace
Massachusetts

Adams (John) Birthplace

Location: Norfolk County, 133 Franklin Street, Quincy.
This was the original homestead of the Adams family and the birth place of John Adams. Although not architecturally impressive, it is historically notable as the place where John Adams grew to manhood. It is adjacent to the John Quincy Adams Birthplace.
The original house, a typical New England saltbox structure of frame construction with a massive central chimney, was probably built about 1681. It consisted of two lower and two upper rooms. Extensive alterations were made over the years. The rear lean-to, built at some unknown date in the 18th century, added two downstairs rooms and two small upper ones, separated by a large attic.
In 1720 John Adams' father, "Deacon" John Adams, purchased the house, where in 1735 young John was born. He lived there until his marriage in 1764. He and his bride moved into a residence next door that he had inherited from his father in 1761 and 6 years later was to be the birthplace of his son John Quincy. In 1774 John bought his birthplace home from his brother. His public duties and legal business kept him away most of the time. By 1783, when he and his family were in Europe, tenants resided in both the John Adams Birthplace and the John Quincy Adams Birthplace. In 1788, when John Adams sailed home, he settled at "Peacefield," or the "Old House," now Adams National Historic Site, in another part of Quincy. In 1803 he sold both birthplaces to his son John Quincy.
The John Adams Birthplace remained in the possession of the Adams family until 1940, when they deeded it to the city of Quincy. In 1896 they had given the Adams Chapter, Daughters of the American Revolution, permission to restore the residence, which the next year was made accessible to the public. When the Adams Chapter dissolved in 1950, the Quincy Historical Society took over the administration. In excellent condition and still owned by the city, the house is open to the public.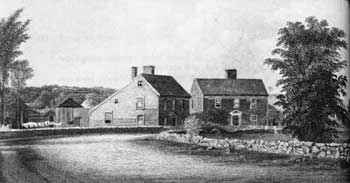 John Adams and John Quincy Adams Birthplaces. (Engraving, date unknown, probably by Stephen A. Schouff, Library of Congress.)
---
http://www.cr.nps.gov/history/online_books/declaration/site19.htm
Last Updated: 04-Jul-2004