Organizational Structure of the National Park Service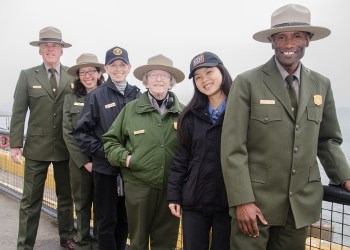 More than 20,000 employees work in a wide variety of disciplines and organizations, from parks to regions to national programs, throughout the National Park Service. They are led by the NPS Director, who is supported by senior executives who manage national programs, policy, and budget in the Washington, DC, headquarters, and seven regional directors responsible for national park management and program implementation.
Explore how these organizations fit together using the chart below.
Organizations
 Director

 Chief of Staff

 Office of Equal Opportunity Programs

 Affirmative Employment, Diversity and Inclusion Programs

 Complaints Processing and Resolution Programs

 Minority University Outreach Program

 Public Civil Rights

 Deputy Director, Congressional & External Relations

 Partnerships and Civic Engagement Directorate

 State and Local Assistance Programs Division

 Land and Water Conservation Fund

 Urban Parks and Recreation Recovery

 Groundwork

 Deputy Director, Management & Administration

 Office of the Comptroller

 Accounting Operations Center

 Budget Office

 Office of Property and Space Management

 Business Services Directorate

 Commercial Services Program

 Asset Management

 Contract Management

 Financial Management

 Planning and Development

 Contracting and Financial Assistance

 Contracting Program

 Financial Assistance Program

 Servicewide Charge Card

 Recreation Fee Program

 Interagency Passes

 Recreation Fees

 Recreation.gov/Reservation System

 Information Resources Directorate

 IT Security Office

 Certification and Accreditation

 IT Security Incident Response

 Operations Security

 Privacy

 National Information Services Center

 Management Services

 Operation Services

 Denver Data Center

 Help Desk

 SharePoint

 Project Services

 Resources Information Services

 Digital Information

 Geographic Information Systems Program

 Library

 Web Services

 National Information Technology Center

 DC Data Center

 IT Services

 Infrastructure Management

 Radio Program Management

 Wide Area Network

 Portfolio Management

 Capital Planning

 Correspondence

 Enterprise Architecture

 FOIA

 Workforce and Inclusion Directorate

 Learning and Development

 Distance Learning Center

 Horace Albright Training Center

 NPS Fundamentals

 Leadership Development Group

 Organization Development Branch

 Stephen T. Mather Training Center

 Career Academies

 Office of Human Resources

 Customer Solutions Services

 Field Advisory Services and Executive Resources Division

 Human Resources Operations Center

 HR Services Division

 HR Franchise

 HR Operations Division

 Personnel Security and Identity Management Group

 WASO Servicing Human Resources Office

 Seasonal Recruitment Operations Center (SROC)

 Labor and Employee Relations Division

 Youth Programs Division

 Deputy Director, Operations

 Cultural Resources, Partnerships, and Science Directorate

 Archeology

 Cultural Resources Business Office

 Heritage Documentation Programs

 National Center for Preservation Technology and Training

 National Register of Historic Places Program

 Office of Tribal Relations and American Cultures

 American Indian Liaison Office

 Park Ethnography Program

 Park History Program

 Maritime Heritage Program

 National Historic Lighthouse Preservation Program

 Science, Technology & Training

 Cultural Resources Geographical Information System Facility

 State, Tribal, and Local Plans and Grants Division

 Certified Local Governments

 Historic Preservation Fund

 Historic Preservation Planning Program

 Technical Preservation Services

 Federal Historic Preservation Tax Incentives Program

 Technical Preservation Services for Historic Buildings

 Interpretation, Education, and Volunteers Directorate

 Cooperating Associations

 Harpers Ferry Center

 Acquisition Management (Contracting)

 Conservation

 Interpretive Planning

 Media Development Division

 Publications Division

 Sign Program

 Junior Rangers

 Lets Move Outside

 Teachers

 Volunteers

 Natural Resource Stewardship and Science Directorate

 Air Resources Division

 Policy, Planning, and Permit Review Branch

 Research and Monitoring Branch

 Biological Resources Division

 Resource Education and Partnerships

 Landscape Restoration and Adaptation

 Wildlife Conservation Branch

 Wildlife Health Branch

 Environmental Quality Division

 Environmental Information Management Branch

 Environmental Planning and Compliance Branch

 Resource Protection Branch

 Social Science Branch

 Geologic Resources Division

 Energy and Minerals Branch

 Geologic Features and Systems Branch

 Natural Sounds and Night Skies Division

 Overflights Branch

 Planning and Compliance Branch

 Science and Technology Branch

 Water Resources Division

 Natural Resource Condition Assessment Program

 Aquatic Systems Branch

 Ocean and Coastal Resources Branch

 Planning and Information Branch

 Water Rights Branch

 Cooperative Ecosystem Studies Units

 Park Planning, Facilities and Lands Directorate

 Park Planning & Special Studies

 Major Construction Division

 Capital Asset Management

 Construction Program Guidance

 Construction Project Review

 Facility Criteria Model

 Value Analysis

 Denver Service Center

 Contracting Division

 Design and Construction Division

 Information Management Division

 Planning Division

 Transportation Division

 Park Facility Management Division

 Accessibility Management Program

 Asset Management

 Business Operations and Support Services

 Communications

 Facilities Planning

 Facilities Planning

 Park Asset Mgmt. Planning

 Office of the Chief

 Park Improvement

 Cyclic Management

 Housing Mgmt.

 Recreation Fee Project Mgmt.

 Repair/Rehabilitation

 Sustainable Operations and Maintenance Branch

 Climate Change

 Green Parks Plan

 Energy & Water Mgmt. and Conservation

 Pollution Prevention

 SOCC Resources

 Sustainable Buildings

 Federal Lands Transportation Program

 Dam Safety

 Park Roads and Parkways

 Transportation Mgmt.

 Environmental Compliance and Response

 Environmental Mgmt.

 Visitor and Resource Protection Directorate

 Law Enforcement, Security, and Emergency Services

 Emergency Services

 Law Enforcement Operations

 Law Enforcement Training Center

 Office of Public Health

 Environmental Health and Field Services

 Office of Risk Management

 Employee Wellness

 Occupational Safety and Health Program

 Operational Leadership

 Regulations and Special Park Uses Division

 Federal Register

 Regulations

 Special Park Uses

 Uniform Program

 Wilderness Stewardship Division

 Wilderness Stewardship

 Region 1

 Administration

 Budget, Finance, and Accountability

 Business Services

 Communications and Legislative Affairs

 Interpretation, Education & Partnerships - Region 1

 Legislative Affairs and Communications

 Planning, Facilities, and Conservation Assistance

 Historic Architecture, Conservation, and Engineering Center

 Ranger Services and Safety

 Resource Stewardship

 Cultural Resources Programs

 Region 1: National Capital Area

 Administration

 Communications

 Lands, Planning & Design

 Liaison to the White House

 Office of the Regional Director

 Operations

 Region 2

 South Florida Natural Resources Center

 Administration

 Communications and Public Affairs

 Facility Management and Risk Management

 Operations

 Partnerships, Interpretation, and Visitor Education

 Planning, Compliance, Lands, and Commercial Services

 Resource, Stewardship and Science

 Strategic Management

 Regions 3, 4, and 5

 Administration & Information Technology

 American Indian Affairs

 Cultural Resources

 Equal Employment Opportunity, Relevancy, Diversity & Inclusion

 Facilities, Planning & Infrastructure

 Finance & Travel

 Legislation, Communications & Partnerships

 Natural Resources Stewardship & Science

 Park Operations

 Regions 6, 7, and 8

 Regional Director's Office

 Indian Affairs and American Culture, Intermountain Region

 Park Management

 Chief of Staff, IMR Deputy Director

 Operations, IMR Deputy Director

 Interpretation and Education

 Distance Learning

 Teacher Ranger Teacher

 Trails & Rails: California Zephyr Route

 Volunteers

 Youth Programs

 Park Management

 Safety

 Visitor and Resource Protection

 Business and Technology

 Old Sante Fe Building

 Communications and Partnerships

 Communications, Legislation and FOIA

 Heritage Partnerships Program

 Partnerships

 RTCA

 RTCA

 Special Projects

 Facilities and Lands

 Environmental Management

 Lands

 Resource Stewardship & Science Directorate - Regions 6, 7, 8

 Climate Change Landscape Conservation Corps

 Cultural Resources

 Environmental Quality

 Natural Resources

 Planning

 Recreation Fee Program

 Workforce Management

 Equal Opportunity

 Workforce Enhancement

 Regions 8, 9, 10, and 12

 Regional Director's Office

 Administration & Facility Management

 Acquisition & Major Acquisition Business Office

 Comptroller

 Facility Management

 Information Technology

 Pacific Islands

 Workforce Management

 Communications, Oversight & Analysis

 Public Information, Freedom of Information

 Public Use Management

 Commercial Services

 Fire Management

 Interpretation & Technology

 Lands San Francisco

 Visitor Resource & Protection

 Resource Management & Planning

 Cooperative Ecosystem Studies Units

 Cultural Resources

 Lands Seattle

 Natural Resources

 Upper Columbia Projects

 Region 11

 Regional Director's Office

 Safety, Health & Wellness

 Administration

 Acquisition and Financial Assistance

 Human Resources

 Communications and Operations

 Commercial Services Program - Region 11

 Interpretation and Education

 Team Alaska

 Native Liaison

 Resources

 Lands

 Shared Beringian Heritage Program

 Science Advisor