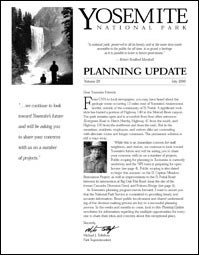 Below is a list and archive of past Electronic Newletters (E-News), News Releases, and Planning Updates.
Both of these types of planning-related notices are produced periodically and can be received by signing up to be on our planning mailing list.
---
E-Newsletters
These electronic newsletters are produced periodically with the intent of quickly disseminating important park information. Some issues contain parkwide information regarding seasonal changes in roads, water runoff, and weather; while other issues focus on park management planning efforts and ongoing projects within the park.
| | |
| --- | --- |
| 2012 | |
| January 13, 2012 | April 19, 2012 |
| January 24, 2012 | April 27, 2012 |
| January 26, 2012 | May 22, 2012 |
| February 8, 2012 | June 14, 2012 |
| February 9, 2012 | July 13, 2012 |
| February 22, 2012 | July 20, 2012 |
| February 29, 2012 | September 12, 2012 |
| March 5, 2012 | October 2, 2012 |
| March 21, 2012 | October 26, 2012 |
| April 2, 2012 | November 27, 2012 |
| April 10, 2012 | |
| April 12, 2012 | |
| April 13, 2012 | |
2011

2010


November 18, 2011
December 7, 2010
November 4, 2011
November 19, 2010
October 26, 2011
October 18, 2010
October 14, 2011
October 8, 2010
October 4, 2011
September 30, 2010
September 21, 2011
September 15, 2010
September 14, 2011
September 15, 2010
August 25, 2011
August 9, 2011
August 13, 2010
July 22, 2011
June 25, 2010
July 14, 2011
April 27, 2010
June 28, 2011
April 7, 2010
May 31, 2011
February 4, 2010
May 11, 2011
January 29, 2010
April 28, 2011
January 6, 2010
April 25, 2011
April 12, 2011
April 5, 2011
March 22, 2011
March 15, 2011
February 24, 2011
February 18, 2011
February 2, 2011
January 21, 2011

2009

2008

March 3, 2008

2007

2006

December 2007

2005

2004

2003