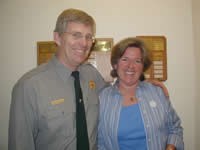 April 2004
Superintendent's Message
Employee of the Month
Martha Lee: Hetch Hetchy Program Manager
Office of the Superintendent
Martha was recently hired as the Hetch Hetchy Program Manager. In that role, she coordinates the relationship (including funding, ongoing programs, and one-time projects) between the NPS and the City and County of San Francisco on issues of mutual concern in the Tuolumne River/Hetch Hetchy watershed.
Soon after her official assumption of these duties, she was also charged with taking over as leader for the support team for the ongoing Merced River Plan litigation.
In typical "Martha Lee" fashion, she has managed to juggle two full-time positions at once, somehow providing superior leadership and expertise to both. Her dedication to the NPS and Yosemite National Park are being recognized.
Thank you, Martha, for your continuing enthusiasm!
Michael J. Tollefson
Park Superintendent

---
National Park Week
April 17-24, 2004
National Park Week is an annual Presidentially proclaimed week for celebration and recognition of America's national parks. While in Yosemite, check local posters for a variety of events taking place, including a free performance of actor Lee Stetson , as he portrays John Muir on what would have been Muir's 166th birthday! The event takes place April 21 at 8:00 p.m. at the Valley Visitor Center Theater.
National parks are your places, preserved for the American people so that all may experience our heritage. The 387 units in the National Park System are living examples of the best this nation has to offer—our magnificent natural landscapes and our varied yet interrelated heritage. Parks can provide recreational experiences, opportunities to learn and grow, and places of quiet refuge.
This year, take a moment, an hour, a day to visit Yosemite or any national park near you. For more information about National Park Week, visit www.nps.gov/npweek.