March 20, 2008
First day of spring
Friday, March 28, 2008: Yosemite National Park Open House
Attend Yosemite's Open House on Friday, March 28 from 1 pm to 5 pm in the Valley Visitor Center Auditorium to find out about the current project and plans in the park. It's a great time to talk to project managers and make public comments about plans and projects. Other Open House dates in spring are Wednesday, April 30 and Wednesday, May 30. Visit the park's website at https://www.nps.gov/yose/parkmgmt/meetings.htm for upcoming dates.
---
Saturday, April 12, 2008: Tuolumne Public Planning Workshop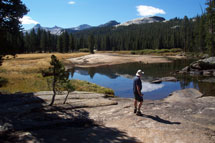 Please join the National Park Service on Saturday, April 12 from 9 am to 4 pm in the Yosemite Valley Visitor Center Auditorium. This replaces the workshop that was originally scheduled for March 8. The purpose of this workshop is to share with members of the public the preferred alternative for the Tuolumne Wild and Scenic River Plan, and to begin discussing alternative concepts for the Tuolumne Meadows Plan. Prior to the workshop, the latest Tuolumne River Plan alternatives—including the new preferred alternative—and related workshop materials will be posted on the park's website at www.nps.gov/yose/parkmgmt/trp.htm. Also check out the project manager's Tuolumne Planning Blog at www.nps.gov/yose/parkmgmt/trpblog.htm. If you plan to attend, please RSVP to project manager Kristina Rylands at 209/379-1175 or by email.
---
Join Yosemite's Annual Earth Day Celebrations
Saturday, April 19, 2008: Save the date and join the park in its annual Earth Day festivities, including a free, organic lunch from Delaware North Companies Parks & Resorts at Yosemite, Inc. in front of the Valley Visitor Center and a vendor faire featuring free "green" goods and park information, from 10:30 am to 2:30 pm.
Tuesday, April 22, 2008: Celebrate Earth Day as a participant! Participate in a "Pedal, Play, and Protect" Bike Ride. Or join Resources Management and Science staff for an Earth Day work party—wear closed-toed shoes and meet in front of the Valley Visitor Center at 9 am for a 2.5-hour blackberry removal project in Cooks Meadow. All tools for the blackberry removal will be provided. Children must be accompanied by an adult.
---
Saturday, April 26, 2008: 2nd Annual National Junior Ranger Day
Bring the kids to a two-hour ranger-led program, including a restoration/service project and awards ceremony. Meet at the Nature Center at Happy Isles in Yosemite Valley. Choose from two scheduled programs: 10 am and 2 pm.
---
Saturday, May 10, 2008: Merced River Plan - Public Planning Workshop
Please join the National Park Service on Saturday, May 10, 2008, from 9:30 am to 3:30 pm in the Yosemite Valley Visitor Center Auditorium for the next Public Planning Workshop for the new Merced River Plan. (NOTE: The Saturday, April 5, 2008, Public Planning Workshop has been COMBINED with this workshop to accommodate those who must travel long distances to attend; Therefore, no workshop will be held on April 5.) During the March 7, 2008, Public Planning Workshop, participants began to create desired condition statements for the river's Outstandingly Remarkable Values (ORVs). Desired conditions lay the groundwork for developing management prescriptions, which are combinations of ORV desired conditions. Management prescriptions prescribe what future natural and cultural resources conditions, and visitor experiences are to be achieved. Additionally, management prescriptions articulate the types and extent of management activities and/or facilities that would be required to achieve the desired resource and visitor experience conditions. On May 10, 2008, draft management prescriptions will be presented. Participants will review and revise those as necessary, and then apply the different management prescriptions to the river corridor on maps, thereby creating different management zoning concepts. These management zoning concepts will then be circulated for public review and comment. Once refined, they will form the basis for the alternatives to be analyzed in the draft plan/environmental impact statement for the new Merced River Plan. For more information about these planning elements and how to get involved in Public Planning Workshops, please visit our web site at www.nps.gov/yose/parkmgmt/newmrp.htm. Please RSVP to Elexis Mayer by phone at 209/379-1377, or by email, no later than Wednesday, May 7, 2008.