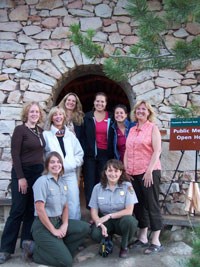 January 11, 2007
In this issue:
Public Scoping Report on the web
Upcoming public events
---
Tuolumne Planning News
Public Scoping Report on the web
Public Scoping Report
13 public meetings
466 letters, faxes, and emails
4,000 distinct comments
This is what resulted from last summer's public scoping process for the Tuolumne River Plan and Tuolumne Meadows Plan. You can read the summary of public concerns and excerpts of actual letters in the Public Scoping Report, currently available on the park's website. Also, all letters in their entirety can be viewed on the web.
The next step in the process is to screen comments for their applicability to the planning process. Those that are "in scope" will be addressed in the plan's alternatives. Those that are not, will be forwarded to the park division or office best suited to address the comment's subject matter. An additional Public Comment Screening Report will be available in the months ahead.
Upcoming Public Events
Submitting comments isn't the only way to participate in park planning. This February, there will be additional opportunities to engage in the Tuolumne planning process. All events below take place in the Yosemite Valley Visitor Center Auditorium.
FEBRUARY 6 Yosemite Forum, Noon-2 pm
Learn about the multiple studies that took place this summer in Tuolumne, as well as some of the results of the public scoping process. NPS researchers will provide a presentation of their initial findings and answer questions.
FEBRUARY 10 "Planner for a Day" Public Workshop, 9 am - 4 pm
Join members of the Tuolumne planning team to discuss Tuolumne River values and management prescriptions.
FEBRUARY 24 "Planner for a Day" Public Workshop, 9 am - 4 pm
Join the team to examine how the NPS can protect river values through management zoning.
UPCOMING OPEN HOUSES, 1 pm - 5 pm
January 31
February 28
March 30