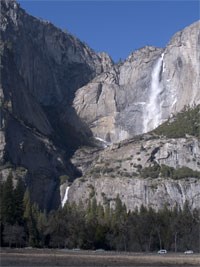 February 23, 2006
What's Happening with Projects in Yosemite?
Public Scoping Now Open for the Hetch Hetchy Communications System Upgrade Project
Participate in planning for Yosemite's future. This is a chance for your ideas to be heard and considered for this project!

Hetch Hetchy Water and Power (HHW&P), in partnership with both the National Park Service (NPS) and the United States Forest Service (USFS), are proposing a series of upgrades to communications equipment in Tuolumne County.
Current phone and data communications systems in the Hetch Hetchy area of the park are obsolete and proposed to be updated. These systems are essential to the operation and security of the electric and water supply utilities located at Hetch Hetchy, and are also used by Yosemite personnel for in-park communications. The proposed project would update radio and fiber optic infrastructure throughout Tuolumne County, including potentially adding one new site within Yosemite National Park.
We are in the initial stages of planning for this project, and an Environmental Assesment (EA) and Initial Study (IS) will be completed as a part of the process. The public scoping period is from February 21, 2006 to March 27, 2006. A project overview and information will be presented at the public Open House held in Yosemite Valley at the Visitor Center Auditorium on Friday, March 24th, from 2:00-5:00pm.
Scoping is an opportunity early in a planning process for the public, organizations, and other agencies to suggest issues to be considered by the National Park Service in preparing the environmental assessment (EA).
Written scoping comments should be mailed to either of the following offices:
Superintendent, Yosemite National Park
Attn: Hetch Hetchy Communications System Upgrade Project
P.O. Box 577
Yosemite, CA 95389
Fax: 209/379-1294
- OR -
District Ranger, Groveland Ranger District
Attn: Hetch Hetchy Communications System Upgrade Project
24545 Highway 120
Groveland, CA 95321
Fax: 209/962-7412
e-mail us

Join us March 10th in the Hetch Hetchy area of Yosemite National Park for a public site visit of the project area!
Visit www.nps.gov/yose/planning/hhcs for more information about this project.
---
Rehabilitation of the Yosemite Valley Loop Road Project/EA
The National Park Service is in the process of finalizing the Finding of No Significant Impact (FONSI). The park received 23 letters during public review period for this environmental assessment. As a result, some changes have been incorporated into the selected alternative, which is the alternative the National Park Service has proposed to implement.
We expect the FONSI will be released by the end of the month and, at that time, it will be available on the web at www.nps.gov/yose/planning/valleyloop.
---
Environmental Education Campus
The Yosemite Institute environmental education campus at Crane Flat has served as an educational facility since 1971. The facilities are comprised of older buildings and structures that have been assembled over time and were not originally designed for educational purposes and are not sufficient for current needs. To address these issues, the park and Yosemite Institute began preparation of a Draft Environmental Impact Statement (EIS) in 2002. Public scoping was completed in November 2002.
The park received comments from the public and park staff that expressed concerns about possible impacts to sensitive resources in the area. The park also received suggestions that a wider range of alternatives should be considered. In response to these issues and concerns, park staff have continued to collect and analyze resource data for the Crane Flat area (i.e., vegetation, wildlife, hydrologic, and cultural resource data), and have expanded the range of alternatives to include additional sites.
More information will be available shortly; read the latest fact sheet [pdf] or attend a public Open House for the latest updates.
---
Projects and Plans to Look for This Spring
Stay tuned for our upcoming Planning Update to be released next month.

---
Talk With Us at Upcoming Open Houses and Public Meetings
Open House:
Friday, March 24, 2006
Valley Visitor Center Auditorium
2:00 pm to 5:00 pm
Wednesday, April 26, 2006
Valley Visitor Center Auditorium
2:00 pm to 6:00 pm
Public User Capacity Update Meeting:
Following the March 24, 2006 Open House, from 5:00pm-6:30pm, join us for a Public Meeting/User Capacity Update and learn more about Visitor Experience and Resource Protection (VERP) issues.
The 2005 VERP Annual Report is expected to be released in March 2006. This meeting will be a great opportunity for you to discuss the results, get any questions answered, and start gearing up for the 2006 summer field season.