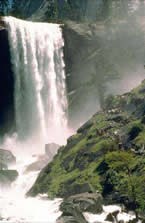 September 8, 2004
Scoping for Revised Merced River Plan/SEIS Closes September 10

This is a reminder that the public scoping period for the Merced Wild and Scenic River Revised Comprehensive Management Plan and Supplemental Environmental Impact Statement (SEIS) will come to a close on Friday, September 10.
The National Park Service welcomes input from the public on two issues to be considered in the revised plan:
Reassessing the river boundary in the El Portal Administrative Site, and
Establishing a user capacity for the entire length of the Merced river corridor.
After the official scoping period closes, the NPS planning team will begin formulating a range of alternatives to be analyzed in the draft plan and SEIS. This document is expected to be presented to the public for review in early 2005.
Background
The National Park Service manages 81 miles of the Merced Wild and Scenic River, encompassing both the main stem and the South Fork in Yosemite National Park and the El Portal Administrative Site.
Pursuant to the Wild and Scenic Rivers Act requirements, the National Park Service prepared and issued the Merced Wild and Scenic River Comprehensive Management Plan in 2000. The plan provides direction and guidance on how best to manage visitor use, development of lands and facilities, and resource protection within the river corridor. It serves as the template against which future implementation plans and projects in the river corridor must be judged to protect and enhance the values for which the Merced River was designated Wild and Scenic.
Where to Submit Comments
Send written scoping comments to the park via fax (209/379-1294), (e-mail us), or U.S. Mail (Yosemite National Park Superintendent, P.O. Box 577, Yosemite, CA 95389). All comments must be postmarked by September 10.
For more information regarding this and other projects occurring in Yosemite National Park, visit www.nps.gov/yose/planning.