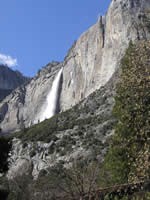 March 2004
Open House Scheduled in Yosemite Valley

The National Park Service is holding an open house in Yosemite National Park on Friday, March 26 from 3:00 p.m. to 7:00 p.m. at the East Auditorium, behind the Yosemite Valley Visitor Center.
The public is invited to attend this event to learn more about the latest improvement efforts occurring throughout Yosemite. Park planners and managers will be onhand to provide project updates, engage in conversations with the public, and address questions and concerns.
Ongoing projects include efforts to improve the visitor experience at Lower Yosemite Fall and continued revegetation at the area of the former Cascades Diversion Dam (which was removed from the Merced River in late 2003). Projects scheduled to begin soon include the Yosemite Lodge Area Redevelopment, implementation of the East Yosemite Valley Utilities Improvement Plan, and the replacement of the South Fork Bridge in Wawona.
Visitors will also have the opportunity to learn about Yosemite's User Capacity Management Program for the Merced Wild and Scenic River Corridor. Included in this program are various management tools to address visitor use within the Merced River corridor, such as the wilderness trail quota system, management zoning, and facilities limits. Also included in the program is the implementation of the Visitor Experience and Resource Protection (VERP) framework, which establishes standards and indicators to monitor and maintain environmental and social conditions in the Merced River corridor. Monitoring efforts are scheduled to begin this summer and results will be shared with the public at future open houses.
When coming through the park entrance gate, tell the ranger that you are attending the open house in the Valley and the entrance fee will be waived. For more information, visit the park's planning web site at www.nps.gov/yose/planning.
---
Future Open Houses
2:00 p.m. to 6:00 p.m.
Valley Visitor Center
East Auditorium
April 22
May 26
June 30
July 28