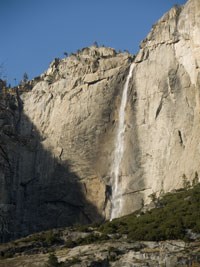 November 16, 2006
Scoping for El Portal Road Reconstruction:
Yosemite National Park Announces Opening of Public Scoping for El Portal Road Reconstruction--Pohono Bridge to the Big Oak Flat Road Intersection Project
The El Portal Road is a park road that begins at the western Yosemite National Park boundary. It begins at the eastern end of California State Highway 140 and continues 7.5 miles east to Pohono Bridge. The initial approach to this repair contemplated a one-mile road segment, often referred to as "Segment D." This planned approach would have studied optimum design for the intersection at Big Oak Flat Road and road portions east of the severely damaged area.
However, in response to the recent ruling by the Eastern District Court, which directs the National Park Service to prepare a new comprehensive management plan for the Merced River, only those portions of the road that are at imminent risk of failure will be addressed at this time. This area has undergone five emergency repairs since 1997, but a complete reconstruction is needed so that the road can withstand future high water events.
The public scoping process for this project opened on Tuesday, November 14, 2006 and will be open until December 28, 2006 --45 days after the Federal Register publication of a Scoping Notice. The Scoping Notice was published on Tuesday November 14, 2006. This project will be accompanied by an Environmental Assessment (EA) which will analyze the environmental effects of a range of project alternatives. You can find more information at www.nps.gov/yose/planning/eproad/.
Three public meetings will take place in November:
A public walkthrough of the project area will be held from 10am to 12 pm on Wednesday, November 29, 2006. Those interested in participating in the public site visit, please RSVP by calling our planning information line (209/379-1365) or by emailing us at: yose_planning@nps.gov. Please provide your name and mailing address so that we can send you an orientation letter.
Following this walkthrough, a public meeting is scheduled for 1 pm at the monthly Open House in the Yosemite Valley Visitor Center Auditorium.
Additional evening meetings will be held at:
Groveland Tenaya Elementary School (19177 State Highway 120, Groveland), from 4 pm to 8 pm on Tuesday, November 28, 2006,
Mariposa County Government Center (5100 Bullion Street, Mariposa), from 4 pm to 8 pm on Thursday, November 30, 2006.
Written scoping comments should be postmarked no later than December 28 and can be submitted at any of the public meetings in addition to the means listed below. A draft document should be available for public review in summer 2007. To request a hard copy or CD-ROM version of the Draft EA and to submit written comments:
Mail: Superintendent, Yosemite National Park
Attn: El Portal Road Reconstruction—Pohono Bridge to the Big Oak Flat Road Intersection
P.O. Box 577
Yosemite, CA 95389
Fax: 209/379-1294
Online: https://parkplanning.nps.gov/projectHome.cfm?parkId=347&projectId=16959

Merced River Plan Update
Last July, Federal District Court Judge Anthony Ishii declared the 2005 Revised Merced Wild and Scenic River Comprehensive Management Plan to be invalid. In October, the National Park Service presented its case for being allowed to move forward with projects that will protect and enhance the Merced River's unique values. Several of these projects involve routine maintenance and repair activities that occur in the river corridor, such as repair of the Valley Loop Trail, rehabilitation of the Valley Loop Road, and removal of the abandoned El Portal Wastewater Treatment Plant, among others. The request also included redevelopment and restoration at the Lodge, rerouting Northside Drive around that redevelopment, and campground improvements in Upper Pines Campground. In a ruling issued November 3, Judge Ishii enjoined nine of these projects and ordered the National Park Service to complete a new Merced River Plan. Park management is currently preparing a schedule for a new Merced River Plan, which will be presented to the court in January.
We will keep you posted as more information is available. In the meantime, various documents related to the court proceedings, including briefs, declarations and rulings, can be found on the park's website at www.nps.gov/yose/planning/litigation.
Tuolumne Planning Effort Update
Public scoping comments for the Tuolumne plans have been posted to the web are available at:
www.nps.gov/yose/planning/trp/scoping.htm.
A final Public Scoping Report will be posted to the web in late December.