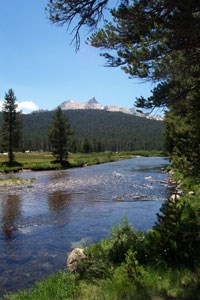 August 11, 2006
Public Scoping for Tuolumne Planning Effort Continues
You still have time to submit scoping comments for the Tuolumne River Plan and Tuolumne Meadows Plan. Submit your ideas, suggestions, and concerns to the National Park Service through September 7, 2006. Comments may be submitted in writing (as indicated at the bottom of this newsletter) or by attending a public meeting.
Remaining public meetings (4 pm to 8 pm):
August 12
Tuolumne Meadows at Parsons Lodge

August 14
Oakhurst Community Center

August 15
Sonora at Columbia College

August 17
Groveland Public Library
Public Site Visit August 29

In addition, the planning team will be hosting a walk to the Tuolumne River to discuss the planning effort and your concerns on August 29 from 1 pm to 3 pm. The group will gather at the Tuolumne Meadows Visitor Center. Be prepared for a walk of about 2 miles: bring water, raingear, and wear appropriate walking shoes or boots.
The Tuolumne River Plan will provide broad management guidance and establish the overall goals and vision for the river corridor. Its policy directives will guide future management and amend the Yosemite National Park General Management Plan for the Tuolumne River area. The 54 miles of the Tuolumne River in Yosemite National Park was federally designated as a Wild and Scenic River in 1984.
The Tuolumne Meadows Plan is an implementation-level plan. It will focus on the types and levels of visitor services and activities offered in the vicinity of Tuolumne Meadows. It will also delineate which areas may be targeted for restoration.
Public ideas and concerns are sought to help identify the range of issues that should be addressed in this planning effort. Comments must be submitted by September 7, 2006. Involvement of the public is needed to insure that future actions are consistent with the National Park Service mission, enabling legislation, and other relevant laws and policies.
Mail: Superintendent, Yosemite National Park
Attn: Tuolumne Planning
P.O. Box 577
Yosemite, CA 95389
Fax: 209/379-1294
Online: https://parkplanning.nps.gov/projectHome.cfm?projectId=14043

For information on this and other planning efforts in Yosemite National Park, go to www.nps.gov/yose/planning.
---
Find out more about Tuolumne planning efforts and other park projects by reading the July 2006 Planning Update (316 KB PDF).