Electronic Newsletter, March 2007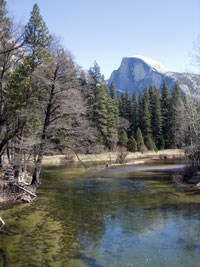 March 29, 2007
Yosemite National Park Announces Merced River Plan Public Scoping Workshops
The public scoping period for a new Merced Wild and Scenic River Comprehensive Management Plan and Environmental Impact Statement (MRP/EIS) will begin on March 30, 2007 and will run for 60 days from the day the Notice of Intent (NOI) is published in the Federal Register. The park welcomes all ideas and concerns regarding this planning effort.
In 1987, Congress designated 81 miles of the Merced River in Yosemite National Park and the El Portal Administrative Site, as well as the South Fork through Wawona, as Wild and Scenic. The National Park Service completed the Merced Wild and Scenic River Comprehensive Management Plan/Environmental Impact Statement in August, 2000. Due to ongoing litigation, the U.S. District Court in Fresno has ordered the National Park Service to complete a new Comprehensive Management Plan for the Merced Wild and Scenic River. This new process will take approximately 33 months, with a final Record of Decision anticipated in September 2009. Once completed, the Merced River Plan will guide all future activities and projects in the river corridor to insure the protection and enhancement of the river's "Outstandingly Remarkable Values." The plan will include a user capacity management program. The plan does not prescribe management of uses and activities on private land.
In addition to Public Open Houses on March 30, April 25, and May 30, 2007 in Yosemite Valley, the National Park Service will be holding Public Scoping Meetings in San Francisco and Mariposa, California. Dates for these events will be announced. For information on this and other planning efforts in Yosemite National Park, go to www.nps.gov/yose/planning or call 209/ 372-0200. To subscribe to our Yosemite National Park e-newsletter and/or the Planning Update newsletter visit our website at www.nps.gov/yose/parkmgmt/updates.htm or contact us by any of the means listed below.
If you submitted scoping comments for the two previous MRP/EIS efforts, your comments will be incorporated into this latest process. You can submit new scoping comments to us:
In person at public meetings
Fax: 209/379-1294
e-mail us
Mail: Yosemite National Park Superintendent
Attn: Merced River Plan
P.O. Box 577
Yosemite, CA 95389
Written scoping comments should be postmarked no later than 60 days after publication of the NOI in the Federal Register.
Last updated: March 1, 2015