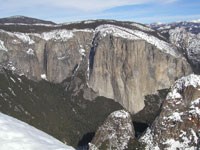 August 17, 2005
We're Looking For Your Input!
Scoping for project to rehabilitate, restore, and resurface Glacier Point Road begins today
Yosemite National Park is asking for your ideas and comments on a proposed rehabilitation, restoration, and resurfacing project planned for a segment of the Glacier Point Road.
The 5.1-mile section incorporated in this project is between, and includes improvements to, the Chinquapin intersection and the Badger Pass Ski Area parking lot. This area attracts high volumes of traffic year-round because it provides access to Bridalveil Creek Campground, Glacier Point, the Badger Pass Ski Area, and numerous trailheads.
Proposed improvements to the roadway would include rehabilitation and/or replacement of existing culverts that lack sufficient size, and/or have deteriorated structure. In addition to culverts, drainage ditches along this segment are in need of reconstruction to help facilitate proper drainage of the roadway. Steeply banked curves are in need of slope modification to improve safe travel, especially during winter driving conditions. Selective brush clearing is needed to improve visibility and snow removal operations.
Proposed improvements to the Chinquapin intersection would address safety concerns due to poor visibility during the approach into the intersection. In addition to this, additional opportunities for chain-up/chain-down in the immediate vicinity are proposed, as well as upgrades to the accessibility of the existing restroom.
Proposed improvements to the Badger Pass Ski Area parking lot include rehabilitation and/or replacement of existing drainage culverts and resurfacing of the existing parking lot.
The public scoping comment period for this project will occur from August 17, 2005 through September 16, 2005. Scoping is an opportunity early in a planning process for the public, organizations, and other agencies to suggest issues should be considered by the National Park Service in preparing the environmental assessment (EA).
Participate in planning for Yosemite's future. This is a chance for your ideas to be heard and considered for this project!
Environmental Assessments
Yosemite National Park is expecting to publicly release environmental assessments for the two following projects in the near future. Estimated dates are:
Rehabilitation of the Yosemite Valley Loop Road EA: Mid-November 2005
Rehabilitation, Restoration, and Resurfacing of the Glacier Point Road EA: Mid-February 2006
If you would like to receive a copy of one of or both of these environmental assessments, please reply to this message or e-mail e-mail us with your request and contact information.
How to Stay Involved
Public participation in the planning process is critical. Here are some ways to stay involved:
Attend a National Park Service public open house to talk with project specialists and obtain more information on the project.

The next open house is scheduled for Wednesday, August 31 at the Visitor Center Auditorium: 2 to 6 p.m.
You will be able to submit your formal scoping comments on this project at the August 31 open house.

Visit the park's planning web site at www.nps.gov/yose/planning for more information.
Send in written suggestions and concerns regarding the project during the public scoping period (see contact information below). Please note that decisions regarding actions in the Yosemite Valley Plan will not be revisited.
Add your name to the park's planning mailing list and receive the Planning Update newsletter as well as other planning-related notices. You can also submit your email address to receive the park's periodic electronic newsletter.
Mail:
Superintendent
Attn: Rehabilitation, Restoration, and Resurfacing of Glacier Point Road EA
P.O. Box 577
Yosemite, CA 95389
Fax: 209/379-1294