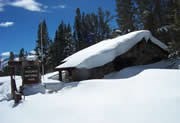 November 5, 2004
Revised Merced River Plan/SEIS
Comment Letters Posted to Web

During the public scoping period for the Merced Wild and Scenic River Revised Comprehensive Management Plan and Supplemental Environmental Impact Statement (Revised Merced River Plan/SEIS), the park received over 100 letters, faxes, and emails. A number of people also provided verbal testimony at public meetings in Oakland, Mariposa, and El Portal. Those comments have been posted to the park's web site and can now be viewed by clicking here (names and addresses blacked out to maintain privacy).
The scoping period took place from July 27 to September 10, 2004. During that time, the park invited members of the public to submit written suggestions and concerns relating to the plan revision. In particular, the public was asked to comment on two issues to be addressed in the revised plan: 1) the reassessment of the river boundary in the El Portal Administrative Site, and 2) the establishment of a user capacity for the entire 81-miles of the river corridor in Yosemite National Park.
The Draft Revised Merced River Plan/SEIS will be released for public review and comment in early 2005.
You can learn more about this project at www.nps.gov/yose/planning/mrp/revision/.
---