Electronic Newsletter, April 2006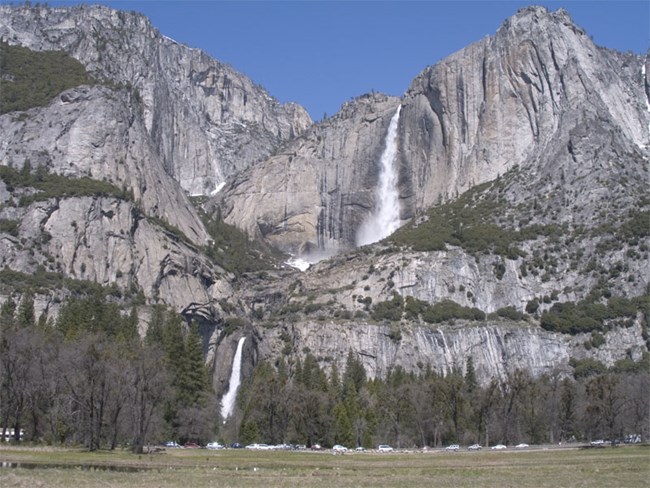 April 19, 2006
March Planning Update Available
Read the latest planning update for updates on over a dozen projects we will be working on this year. (The file is an Adobe PDF about 500 KB in size.)
---
Aquatic Habitat and Mountain Yellow-Legged Frog Restoration
Yosemite's population of mountain yellow-legged frogs has been declining at a rate of 10% per year for the last five years, resulting in the disappearance of 95% of original populations. This endangered species lives in high-elevation lakes and streams. The decline began with the stocking of non-native trout in Sierra lakes that began with the arrival of Euro-Americans over 100 years ago, and continued until 1990. No fish naturally occurred in the park above approximately 4,000 feet elevation. The introduced fish voraciously consumed frogs and tadpoles, and numerous species of large invertebrates. Recent surveys show that a pathogen—known as chytrid fungus—is also infecting the frogs, and leading to further loss of populations. The presence of non-native fish has reduced the ability of the frog populations to withstand the disease. This summer, work is getting underway to prepare an environmental assessment that will evaluate alternatives for assisting in the recovery of aquatic habitats and the organisms who live there, including this special-status frog species.
Public scoping for this project will occur from May 17 through June 16.
Written scoping comments should be postmarked no later than June 16, 2006. To request a hard copy or CD-ROM version of the future Environmental Assessment and to submit comments:
Superintendent, Yosemite National Park
Attn: Aquatic Habitat and Mountain Yellow-Legged Frog Restoration
P.O. Box 577
Yosemite, CA 95389
Fax: 209/379-1294
Visit www.nps.gov/yose/planning/mylf.pdf for more information about this project. (The file is an Adobe PDF about 124 KB in size.)
For information on this and other planning efforts in Yosemite National Park, go to www.nps.gov/yose/planning.
---
March was Wet!
Park personnel have completed the April 1 snow surveys. There was measurable precipitation in Yosemite Valley on 20 days in March; for the period February 26 through April 3, we had precipitation 26 out of 37 days. Overall, the water content of the snowpack went from about 90% of average at the end of February to about 130% of average at the end of March. This is somewhat behind last year, when the water content was 163% of average on April 1, but a series of storms during early April increased those figures above last year's totals in some places, particularly at the higher elevations.
Tuolumne River Basin - April 1, 2006 Snow Survey
Course
Elevation (ft.)
Depth of snow (in.)
Water content (in.)
Percent (%) of average
Dana Meadows
9,800
124.6
47.6
153%
Rafferty Meadows
9,400
121.1
51.6
157%
New Grace Mdws
8,900
175.3
72.8
152%
Tuolumne Meadows
8,600
98.1
32.7
144%
Wilma Lake
8,000
166.8
60.6
140%
Paradise Meadow
7,650
141.0
50.0
125%
Vernon Lake
6,700
77.9
27.9
125%

Basin average compared to April 1 (1951-2000) average: 129%

Merced River Basin - April 1, 2006 Snow Survey
Course
Elevation (ft.)
Depth of snow (in.)
Water content (in.)
Percent of average
Snow Flat
8,700
150.5
59.5
134%
Ostrander Lake
8,200
123.6
48.9
150%
Tenaya Lake
8,150
117.6
40.9
122%
Gin Flat
7,000
91.9
36.2
113%
Peregoy Meadows
7,000
93.7
29.7
101%

Basin average compared to April 1 (1951-2000) average: 124%
---
Talk With Us at Upcoming Open Houses and Public Meetings
Open House:
Wednesday, April 26, 2006
Valley Visitor Center Auditorium
2:00 pm to 6:00 pm
Wednesday, May 31, 2006
Valley Visitor Center Auditorium
2:00 pm to 6:00 pm
Last updated: March 1, 2015