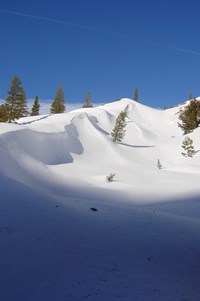 February 15, 2005
Public Meetings Scheduled for Yosemite National Park's Revised Merced River Plan/SEIS
The National Park Service in Yosemite will conduct a series of public meetings during the comment period for the Draft Merced Wild and Scenic River Revised Comprehensive Management Plan and Supplemental Environmental Impact Statement. The revision focuses on the river corridor boundary in El Portal and user capacity for the entire 81-mile corridor in Yosemite.
During the public meetings, participants will have the opportunity to talk with park staff, provide individual verbal testimony with a court reporter, participate in a public hearing (also with court reporter), and submit written ideas and concerns. Parking is free unless otherwise indicated. All venues are accessible for persons with mobility impairments and a sign language interpreter will be provided with 1-week notice.
Format & Times
Open House: 5:00 p.m. – 9:00 p.m.
Presentation: 6:00 p.m. – 6:30 p.m.
Public Hearing: 6:30 p.m. – 9:00 p.m.
February 22 (10 am -2 pm)
Yosemite Valley
Open House: 10 am - 2 pm
Presentation: 11 am - 11:30 am
Public Hearing: 11:30 am - 2 pm
Visitor Center East Auditorium

February 22
El Portal
El Portal Elementary School,
Rancheria Flat Rd.


February 23
San Francisco
Fort Mason, Building 201 (Bay & Franklin Streets)
Free parking at NPS lot at Buchanan St. & Marina Blvd.


February 24
Burbank (Los Angeles area)
Burbank Airport Hilton and Convention Center
2500 Hollywood Way ($5 parking)


February 25
Oakhurst
Oakhurst Community Center
3980 Road 425-B


February 28
Mammoth
Mammoth Lakes Community Center
1000 Forest Trail


March 1
Sacramento
American River College (cafeteria)
4700 College Oak Dr. ($1 parking)


March 2
Clovis
Clovis Memorial Building, Veterans Room
453 Hughes Ave.


March 3
Merced
Merced Civic Center, Sam Pipes Room (first floor)
678 W. 18th Street


March 4
Mariposa
Mariposa Government Center
5100 Bullion Street


March 7
Groveland
Tenaya School
19177 State Highway 120
For more information regarding this and other projects occurring in Yosemite National Park, visit www.nps.gov/yose/planning.
---
Read the latest Yosemite Planning Update
The February 2005 issue of the planning update is now available online [260 kb PDF].