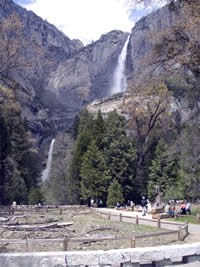 May 4, 2005
Scoping now open Rehabilitation of the Yosemite Valley Loop Road Environmental Assessment
Comments due by June 1, 2005
Yosemite National Park is planning to repair and improve the Northside and Southside Drives. The existing road surface and culvert system are in very poor condition. User-designated, unauthorized roadside parking is also becoming a problem as it impacts roadside vegetation.
This proposed project would repair and resurface existing road pavement, drainage structures, and define roadside parking throughout the project area. No widening or realignment of the roadway, off of the existing road bench, would be undertaken. There are no proposed changes in parking capacity.
Public participation in the planning process is critical. Here are some ways to stay involved in the Rehabilitation of the Yosemite Valley Loop Road Environmental Assessment process:
Attend a National Park Service public open house to talk with project specialists and obtain more information on the project. The next open house is scheduled for Wednesday, May 25 at the Visitor Center Auditorium: 2 to 6 p.m.
Visit the park's planning web site at www.nps.gov/yose/planning for more information.
Send in written suggestions and concern regarding the project at any time (see contact information below). Please note that decisions regarding actions in the Yosemite Valley Plan will not be revisited.
Add your name to the park's planning mailing list and receive the Planning Update newsletter as well as other planning-related notices. You can also submit your email address to receive the park's periodic electronic newsletter.
Mail: Superintendent
Attn: Rehabilitation of Valley Loop Road EA
P.O. Box 577
Yosemite, CA 95389
Fax: 209/379-1294
For more information regarding this and other projects occurring in Yosemite National Park, visit www.nps.gov/yose/planning.
---
Most of the results for the May 1 snow survey are in, and the unsettled weather last month prevented much melt, particularly at the higher elevations. Some of the courses were only losing one inch per week. The pack is now 179 percent of average for May 1st in the Tuolumne drainage and 187 percent of average for the Merced drainage. This is about halfway between the record snowpack (in 1983) and long-term average.
Some examples of the current snow depth include:
Dana Meadows (9,800 feet): 91 inches,
Grace Meadow (8,900 feet): 136 inches,
Tuolumne Meadows (8,600 feet): 67 inches,
Peregoy Meadow, near Bridalveil Creek Campground (7,000 feet): 99 inches.
The snowpack generally loses about an inch per day this time of year, which increases to up to 2 inches per day when longer days and higher temperatures occur in summer.
---
You can view progress of the park's road crews as they plow the Tioga and Glacier Point Roads at www.nps.gov/yose/now/tioga.htm.