CESI Research Projects by Title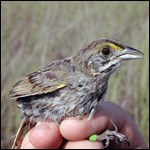 These projects provide valuable baseline information needed to determine what should be monitored and resolve uncertainties in simulation modeling and restoration assessments.
Projects below can be sorted according to year, project title or principal investigator. Where available, click on project titles for more in-depth project information.
Project Title

2001

Analysis of Water, Soil & Plant Samples

Norland, M.

NPS

1997

American Alligator Distribution/Thermoregulation/Biotic
Potential Relative to Hydroperiod

Rice, K.

UF

1997

American Alligator Nesting and Reproductive Success in Everglades National Park

Dalrymple, G.

ERG

1997

Benthic Macrophyte/Invertebrate
Distribution in the Mangrove Ecotone

Fourqurean, J.

FIU

2007

Biscayne Bay's Nearshore Habitats: Linking Seasonal Patterns in Benthic Community Structure with Salinity

Lirman, D.

UM

2000

Lockwood, J.

UC

2002

Coastal Landscape/Wetland/Tidal Channel
Evolution Affecting Habitats at Cape Sable

Wanless, H. R.

UM

1999

Composition/Structure of Ground-cover
Plant Communities in Long Pine Key

Platt, W.

LSU

2004

Determination of Large-Scale Flow Patterns and Air/Water Gas Exchange in a Ridge and Slough Habitat

Ho, D.

COLUM

2001

Powell, A.

NOAA

2004

Development of Midge Bioassessment Methods
for Evaluating Marsh Water Quality and
Hydrologic Restoration

Jacobsen, R.

USGS

1997

Diet of Red Drum/Snook in Florida Bay

Coleman, F.

FSU

2002

Smith III, T.

USGS

1997

Dry Down Tolerance of Florida Apple Snail:
Effects of Age/Season

Percival, F.

UF

2002

Ecosystem Process Models of Sea Grass Communities in Florida Bay

Madden, C.

SFWMD

2001

Volin, J.

FAU

1997

Cardeilhac, P.

UF

1999

Effect of Wind on Surface Water Flows

Jenter, H.

USGS

1998

Effects of Hydrology on
Wading Bird Parameters

Gawlick, D.

SFWMD

2001

Effects of Public Land Use on Threatened/Endangered/Indicator Species' Populations/Habitats in Big Cypress

Rice, K.

USGS

2004

Everglades Restoration Impacts on
Biscayne Bay's Shallowest Habitats

Lirman, D.

UM

1999

Lockwood, J.

RU

2004

Fire History GIS Data Development
for Everglades and Big Cypress

Smith III, T.

USGS

1997

Robblee, M.

USGS

2002

Fish Utilization of Fringe Mangrove Habitats within Biscayne

Luo, J.

UM

2003

Ault, J.

UM

1999

Florida Grasshopper Sparrow Population Genetics

Bass, S.

NPS

2001

Flume Study

Gaiser, E.

FIU

1999

Patino, E.

USGS

2001

Genetic Analysis of Cape Sable Seaside Sparrow Populations

Karl, S.

USF

1999

Price, R.

FIU

1997

Geology/Ecological History of the
Buttonwood Ridge

Holmes, C.

USGS

1998

High Resolution Bathymetry of Florida Bay

Hanson

USGS

2004

Hydrologic Constraints on Establishment
of Lygodium microphyllum

Phillippi, T. E.

FIU

2001

Hydrologic Data Collection/Analysis

Kotun, K.

NPS

1997

Hydrologic Variation/Ecological Processes
in the Mangrove Forests

Smith III, T.

USGS

2001

Darby, P. C.

UWF

1999

Interrelations of Everglades Hydrology/Florida Bay Dynamics

Smith III, T.

USGS

2004

Introduced Fishes in Short-hydroperiod Wetlands: Evaluation of Sampling, Status, and Potential Effects

Loftus, W. F.

USGS

1999

Stober, J.

EPA

2002

Landscape Model of Ridge/Slough: Field Data Analysis

Volin, J.

FAU

1999

Leveling Data for Levee 4 Highway 41

Desmond, G.

FDEP

1997

Loftus, W.

USGS

2002

Linking Hydrology to Biological Recovery After Cessation of Long-term Phosphorus Enrichment in Everglades National Park

Gaiser, E.

FIU

2001

Mazzotti, F.

UF

1998

Mechanisms/Implications of Thalassia
Die-off on Florida Bay Mud Banks

Carlson, P.

USGS

2007

Movements and Habitat Use of Burmese Pythons in Southern Everglades

Mazzotti, F.

UF

1997

Multiple Regression Analysis of Factors Influencing Patterns of Foraging Wading Birds

Potier, K.

UF

2000

Nematoceran Community Relationships with Hydroperiod/Water Quality in Shark and Taylor Sloughs

Jacobsen, R.

NPS

2001

Nitrogen/Phosphorus Limitation of
Primary Productivity in Florida Bay

Fourquerean, J.

FIU

2007

Paleo and Physio Impacts of Reduced Water Flow on Estuarine Ecotone Communities: Developing Research

Ewe, S.

FIU

1998

Paleoecological History of
Pigeon Key, Florida Bay

Cohen, A.

USC

2002

Periphyton Response to Hydroperiod
in Marl Prairie Wetlands

Gaiser, E.

FIU

2004

Phosphorus Kinetic/Biogeochemical Studies
to Support a Sea Grass Simulation Model
for Florida Bay

Koch, M.

FAU

2002

Physiologic Performance Measures/Tolerance
Limit of Estuarine Indicator Species

Rand, G.

FIU

1999

PMC Support for the Interagency
Florida Bay Program

Hendrix, N.

FIU

1997

Population Structure / Spatial Distribution of Aquatic Consumers Communities

Loftus, W. F.

USGS

1998

Potential of Endangered American Crocodile to Provide a Quantifiable Measure

Mazzotti, F.

UF

2000

Potential Use of Periphyton-dominated
Stormwater Treatment Areas
for Phosphorus Reduction

Jones, R.

FIU

2003

Quantifying Hydrologic Constraints
on Cape Sable Seaside Sparrow Populations

Dong, Q.

NPS

1998

Rehab Lab Construction

Armentano, T.

NPS

1997

Relationship of Sedimentary Sulfur/Iron/Phosphorus Cycling to Water Quality in Florida Bay

Fourqurean, J.

FIU

1997

Relationships Among Inshore Pink Shrimp in Tortugas/Sanibel Fisheries

Robblee, M.

USGS

2004

Responses of Mangroves to Regional
Environmental Changes

Childers, D.

FIU

2003

Kernan, C.

FTG

2001

Rand, G.

FIU

1999

Loftus, W. F.

USGS

2002

Humphrey, S.

UF

1998

Sea Grass Disease/Mortality
in Florida Bay

Landsberg, J.

FMRI

2002

Southern Everglades Integrated
Monitoring/Science Work Plan

Childers, D.

FIU

2001

Stability/Bioavailability of Recently Accreted
Phosphorus from Advanced Treatment Technologies

Reddy, R.

UF

1999

Statistical Relationship Between Benthic Habitat/Water Quality

Fourqurean, J.

FIU

1999

Mazzotti, F.

UF

1998

Status of Ongoing Research in Biscayne Bay

Robblee, M.

USGS

1997

Studies of Population Growth / Predator Prey Interactions of Fishes

Loftus, W. F.

USGS

2003

Surface Water Monitoring to Determine Extent/Cause of Canal Water Intrusion

McCormick, P.

NPS

2002

Technical Advisory Services for Florida
Bay Salinity-based Performance Measures

Hitchcock, C.

CG

1997

Temporal/Spatial Variation in Sea Grass
Associated Fish/Invertebrates

Robblee, M.

USGS

1998

Thalassia testudinum Resilience to
Sulfide Stress in Florida Bay

Koch, M.

FAU

1999

The Florida Bay Program Management Committee Support for the Interagency Florida Bay Program

Browder, J.

NOAA

1998

Trexler, J.

FIU

1997

Desmond, G.

USGS

1999

Transect Sampling to Relate a Phosphorus Addition Flume Study to Water Quality Impacts

Childers, D.

FIU

2004

Engle, V.

NPS

2000

Ross, M.

FIU

2004

Tree Islands, Ridge/Slough Landscape,
& Ecological Connectivity

Chan, C.

NPS

1997

Vegetation Dynamics of Land-margin Ecosystems:
Mangroves in Gulf Coast

Smith III, T.

USGS

1999

Vegetative Resistance to Flow

Schaffranek, R.

USGS

1997

Pimm, S.

UT

2001

Water Flow Through Coastal
Wetlands of Biscayne

Ross, M.

FIU

2006

Western Tamiami Trail Flows: Baseline Information and Response to CERP

Patino, E.

USGS
Last updated: June 24, 2016